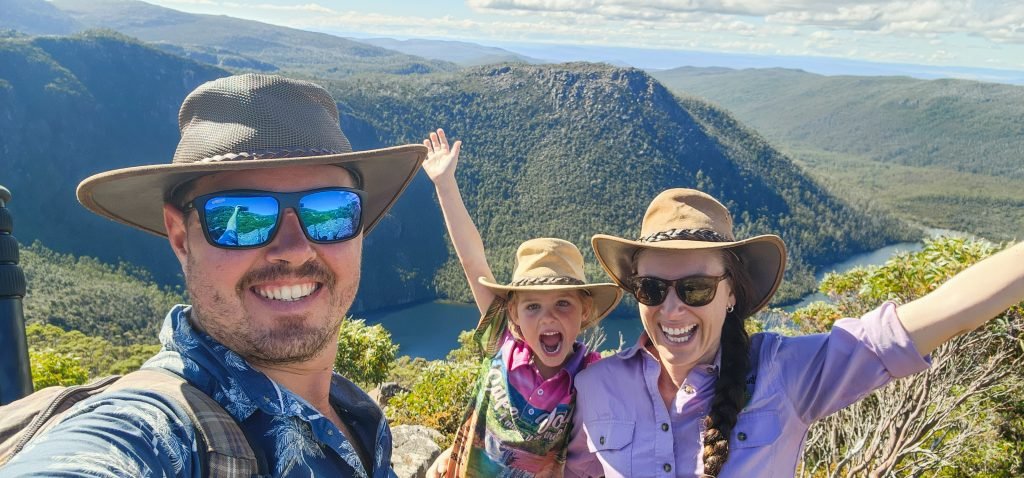 Nestled at the southernmost tip of Australia, the island state of Tasmania boasts a breathtaking natural beauty that has remained relatively untouched by the modern world. While the whole island is a haven for nature enthusiasts and adventure seekers, Southern Tasmania, in particular, stands out as a region of unparalleled wonder and charm.
Southern Tasmania is a place where the natural world and human history come together in a harmonious blend. When it comes to the Southern area of the island, it's a land of exquisite contrasts, where the vibrant capital city of Hobart meets pristine natural wonders, untamed wilderness areas, modern engineering feats and history dating back to the beginning of Australia, just to get started. In this blog post, the information we provide promises to ensure you can plan a captivating exploration of the magic of Southern Tasmania.
Towns Visited: Triabunna, Maria Island, Port Arthur, Hobart, Huon Valley, Bruny Island, Mount Field
Camp sites:
Triabunna Spring Bay Hotel – Free camp behind the pub and across the road. No facilities and it fills up pretty early, but there is a RV stop across the road too if needed.
Lime Bay, National Park – a bush camp with ocean bay views. We had the most amazing location to camp and the weather was just brilliant!! The stingrays, sunsets and SUP-ing were next level!
NRMA Park in Port Arthur – lovely, friendly staff, massive sites that have so much nature and fire pits each, playground, pump track, walks to the beach, wildlife and great communal areas. We recommend booking a few days in advance for this one as it books out, especially weekends.
Sorrell RV Stop – Just 20 minutes out of Hobart, with dump point, water and bins, you have to be self-contained but it is a fab, cheap base for Hobart and surrounds.
Longley Pub – free camp with patronage of the pub, next to the creek, a great stop for a couple of nights. Beware, dinner and drinks at the pub cost us $100 so ended up being $50/night for the camp, haha.
Mount Field National Park – high on our fave list and absolutely recommend camping here when in the area! We managed to score the last river side camp big enough for a caravan, but there are non-river side and power & water sites too! Have breakfast and dinner amongst nature and listening to the birds and the water flowing, plus platypus having a swim and pademelons visiting us in the evenings, and cheeky Possums trying to get a free snack from the BBQ later at night. It is also within walking distance for the lower walks and to check out the glow worms near Russell Falls.
Day Trips/ Points of Interest:
Maria Island (from Triabunna) – we did a day trip over from Triabunna. We visited:~ Historic Village Darlington~ Darlington Bay~ Painted Cliffs ~ Magistrates Point~ Howells Cottage~ Oast House~ Cemetery, Convict Barn and Silos which is just a small part of the island, however was enough for us. We were amazed at how clear and blue the water was, how white the sand was and how must history was on such a small island. Maria Island is known for wombats in the day and we were so glad they were out and about for us to see as we got to experience our first wombat up close in the wild!
Lime Bay Convict Coal Mine Historic site (from Lime Bay Reserve) – an free and interesting place to have a wander and read the information.
Sloping Main (from Lime Bay Reserve) – a tiny village with a stunning beach and bay which is dog friendly.
Port Arthur Historical Site – an amazing piece of history. We advise spending/allowing 2 half days at least to explore. Yes, you may be able to do it all in a day but it is all really overwhelmingly informative, breaking it up allows you to take in all in and we think more enjoyable too. There is a boat ride that is included in the general entry ticket too.
Ladies Bay (from Port Arthur) – a walk from the NRMA Caravan Park in Port Arthur and a beautiful protected bay.
Remarkable Cave and Salmon Rock (from Port Arthur) – The colour of the water, the views, the cliff structures and the natural beauty is just amazing.
Tasman Arch & Devils Kitchen (from Port Arthur) – Both just a short and easy walk from the car park and worth the stop while exploring the Tasman Peninsula.
Tessellated Pavement – (from Port Arthur) – an outstanding natural landform that is a must to see. Ensure that it is ow tide though and you do have to walk a few stairs.
Day Trips/ Points of Interest (cont.):
Mt Wellington (From Sorrell) – a short but steep drive just outside of Hobary, with amazing views as far as the eye can see (on a clear day). Don't be fooled by the beautiful blue skies we have, it was a FREEZING 6° with a feels like of 1° but the views were spectacular! Highly recommend and it is a MUST in Tassie! (Oh and the road is not van friendly!!) There are other walks you can do in this area if you have the time and ability.
Richmond (from Sorrell) – hosting Australia's oldest surviving large stone arch bridge which was made by convict labour and is now heritage listed! Make a stop in at the bakery for a treat, then head to the riverside/bridge side park to feed the ducks. Afterwards wander through town, stopping at a few little shops along the way (including a distillery, ice-cream and lolly shop).
Long Beach and Taroona Beach (from Sorrell) – the coastal drive between these two beaches is beautiful. We did this on a loop from Sorrell through Hobart City and then around to Mount Wellington.
Willie Smiths Cider House and Franks Cidery (from Longley Pub)- Dan loves a good cider so he enjoyed heading to the cider houses to give some a try.
Tahune Adventures (from Longley Pub) – We did 3 walks here, the Huon Pine Walk, the Air Walk and the Swinging Bridges Walk. All offering something a little different to the last. It is paid entry so check the opening times.
Bruny Island – We took a day trip as we didn't really have the time for much more. We stopped for a some cheese and bread on the way to the Bruny Island Lighthouse where we stopped for a picnic lunch and a walk to the lighthouse. We then worked our way back, stopping in at Jetty Beach, Adventure Bay, Two Tree Point and The Neck Lookout. We feel we saw the main attractions and drove pretty much the whole island in a day. It wasn't a rushed day and we can't really see how we would spend our time if we had more (unless you have a boat and are fisher people), and we are glad we didn't take the van over and pay the extra for the ferry.
EXTRA NOTE: We also did not go to Cockle Creek as we did not have time and ability to walk to the most Southern Point of Tas/Aus. This is an additional location you can add to your itinerary if you wish.
Day Trips/ Points of Interest (cont.):
Russell Falls (from Mt Field NP Camp) – an absolutely stunning short walk and waterfall, with the walk paved making in pram and wheelchair friendly.
Horseshoe Falls (from Mt Field NP Camp) – you can continue up a lot of steps to these falls. The extra steps are quite hard work, but again the walk is in a stunning forest and very worth the effort.
Tall Trees Walk (from Mt Field NP Camp) – we did this as a loop including the above 2 walks. Here you walk through a forest of amazing trees and ferns and may be lucky to spot some wildlife. Adding this walk too the other two does add a bit extra to the distance and you walk back to the info centre and campground along the road.
Lake Dobson & Pandani Grove (from Mt Field NP Camp) – This is a reasonably easy walk at the top of Mount Field National Park. You have to drive the windy road to the parking area at the top to start the walks.
Tarn Shelf Walk to Seal Tarn Lookout (from Mt Field NP Camp) – This is a hard yakka walk! You are constantly walking up and then once you get to the top, you are on a flat boardwalk, but it takes quite the effort and time to make it up the top. You can continue and do the Tarn Loop Walk if you're up for it! We just did one way and walked back through the snow gums walk. If you are just doing a return to the lookout, we recommend this as the trees are amazing to see. However don't walk up this way as it is a lot of upward boulder hopping which is easier to do downwards.
Gordon Dam Wall and Strathgordon Wilderness Lodge (from Mt Field NP Camp) – we recommend this day trip and a stop at the wilderness lodge for a read of the history of the dam wall and for lunch, the burgers were amazing! Continue along stopping at Bitumen Bones Lookout and the Gordon Dam Wall. The highlight is the ability to walk along this incredible engineering masterpiece.
Styx Forest (from Mt Field NP Camp) – Another rainforest adventure Styx Tall Trees Forest and river walk. You so feel like you're driving in the middle of nowhere on a dirt road to get here but eventually you will arrive at the car parking area and see the signs.

Watch all of these amazing locations and get extra info in the YouTube videos below!
If you enjoyed this blog or found it useful, please feel free to click on any of the ads on the page, it doesn't cost you anything, but it does help us see a little money to cover the hosting costs of the website.
Further, if you are looking to support us in other ways, you can buy a product from our discounts page, purchase a piece of Dan's photography art or 'buy us a coffee".
Finally, don't forget we have all the other areas of Tasmania on our website, plus so much more!
Thanks heaps!! 🙂