Tasmania, Australia's southernmost state, is a land of diverse landscapes, rich history, and unparalleled natural beauty. There's a treasure trove of wonders waiting to be discovered in the northwest and central regions. This is where you'll find a unique blend of pristine wilderness, charming towns, and culture that beckons to be explored.
In this post, we will take you through our adventures that takes us off the beaten path, winding our way through the enchanting landscapes of Northwest and Central Tasmania. The untamed beauty of this region offers an unspoiled escape for those seeking adventure, serenity, and a deeper connection with nature.
From pristine coastlines, to the picturesque lakes, dense forests and mountain peaks, we will give you heaps of information to experience the magic of North West and Central Tasmania. Whether you're an avid hiker, a history buff, a foodie, or simply someone in search of tranquillity, Northwest and Central Tasmania have something to offer every type of traveller. So, fasten your seatbelts, put on your walking shoes, and get ready to have info overload ready to plan your next North West Tassie adventures.
Towns Visited: Derwent Bridge, Queenstown, Strahan, Roseberry, Burnie, Stanley, Arthur River, Penguin, Forth, Promised Land, La Trobe, Spreyton
Camp sites:
Bronte Lagoon – A free campsite right next to a stunning lake! In our top camps in TAS this one!! No facilities but peace and quiet, SUP-ing, fishing etc!
Franklin River National Park – felt a little apocalyptic haha. There are a couple of entry points to this camp but the one closest to town is the one to take if your a towing setup (7km West of town). There is nothing here so bring everything and take everything and a great location to check out The Wall and Lake Saint Clair.
Lake Burbury (Linda Creek Campsite) – There are a couple listed in this area, but the one we liked was over the bridge and down the track towards the old boat ramp, which has nothing but awesome views. It is only small, but there is turning space!
Queenstown Football RV – cheap basic camp in town. It fills up pretty quick too, so don't leave it too late.
Golf Club Strahan – cheap camp to check out the town.
Lake Mackintosh – a little adventurous and off the beaten track as you drive across a dam wall to get here. The road is in good condition but keep an eye on the lake water level and evacuate once it gets to the marker as there is no other way out!
Cradle Camping and Fishing – A small family run camp with BBQs, fire pits, picnic tables and toilets, plus dam views for most camps. It got really busy here too, so don't leave it too late in the day to arrive if you don't have a booking. You can base here if you want to explore Cradle Mountain. There are a few options in the area, we did here for 1 night then another 2 nights below.
Cradle Mountain Info Centre Long Vehicle Parking – not a camp but a crown land long vehicle parking spot, so if you stay overnight here there is a risk of being asked to move on I guess. We stayed 2 nights to allow for an early and big day of hikes, plus night time photography, which is safer for us than driving long distances at night in mountains with wildlife. We took up as small a spot as we could, didn't set up anything outside and left no trace, please do the same if you choose to park overnight here.
Lake Gairdner – another free camp within Cradle Mountain distance. We enjoyed just chilling, platypus watching, kayaking, chatting with other travellers and meeting people from all over.
Cooee Point, Burnie – a 48hr free camp right in town on the water, stunning warm sunny weather for a quick swim and SUP and with penguins visiting at night, what an experience.
Stanley Golf Club – a great cheap camp to head up The Nut, head to the beach or look for penguins.
Leven Canyon – a free camp right the the start of the walks for the canyon. There are some facilities here and lots of friendly wildlife.
Wilmot River Reserve – a small and quiet free camp on the side of a river. We had the whole camp to ourselves here and enjoyed a fire and platypus watching. The only problem during the day were the bees, OMG there were sooo many of them!!
Forth Sports Ground RV – a donation camp close to Devonport for a couple of nights after arriving or before departure on the Spirit of Tasmania. Some facilities here but NO dump point.
Day Trips/ Points of Interest:
Tarraleah Hydro Park (from Bronte Lagoon) – a park area with information about Tasmania's Hyrdo and the history.
Geographical Centre of Tasmania (from Bronte Lagoon) – just a quick stop to say you've been there!
The Wall at Derwent Bridge (from Franklin River NP Camp) – This place is amazing and the artist has such talent, however no photos or video can be taken so you'll just have to take our word for it!
Lake Saint Clair (from Franklin River NP Camp)- there are many hikes here but we just did the boat ramp and 'beach' walks here with the hope for a sunset, there were just too many clouds about, but Dan captured a moody B&W though. We also saw a tiger snake here up close which was a little scary so be on the lookout, we had to back away slowly.
Franklin River National Park Nature Trail (along the drive from Franklin Rive NP Camp to Queenstown) – another of Tassie's 60 Great Short Walks. We absolutely loved this walk, even in the rain which required us to wear rain jackets and use umbrellas.
Nelson Falls (along the drive from Franklin Rive NP Camp to Queenstown) – a waterfall that was on our Tassie bucket list from the start & gosh it did not disappoint us!! Daniel Courtney Photography captured some stunning images here, and this was a reminder of why we came to Tassie!
Horsetail Falls and Queenstown (from Queenstown) – Coming from the East into Queenstown before the very windy and steep decent there is the pull off parking for the Horsetail Falls. It is small-ish but if it is quiet you'd be able to park in if hitched but maybe try to have a look before you commit! It's not far to come back to after getting into town, which is what we did as we tried to get a break in the rain, which we did not haha.
Morrisons Huon Pine Woodworking demonstration a great free demonstration and talk about the Huon Pine trees.
Hogarth Falls – A short and easy walk to the falls with just a few steps at the end if you want a closer look.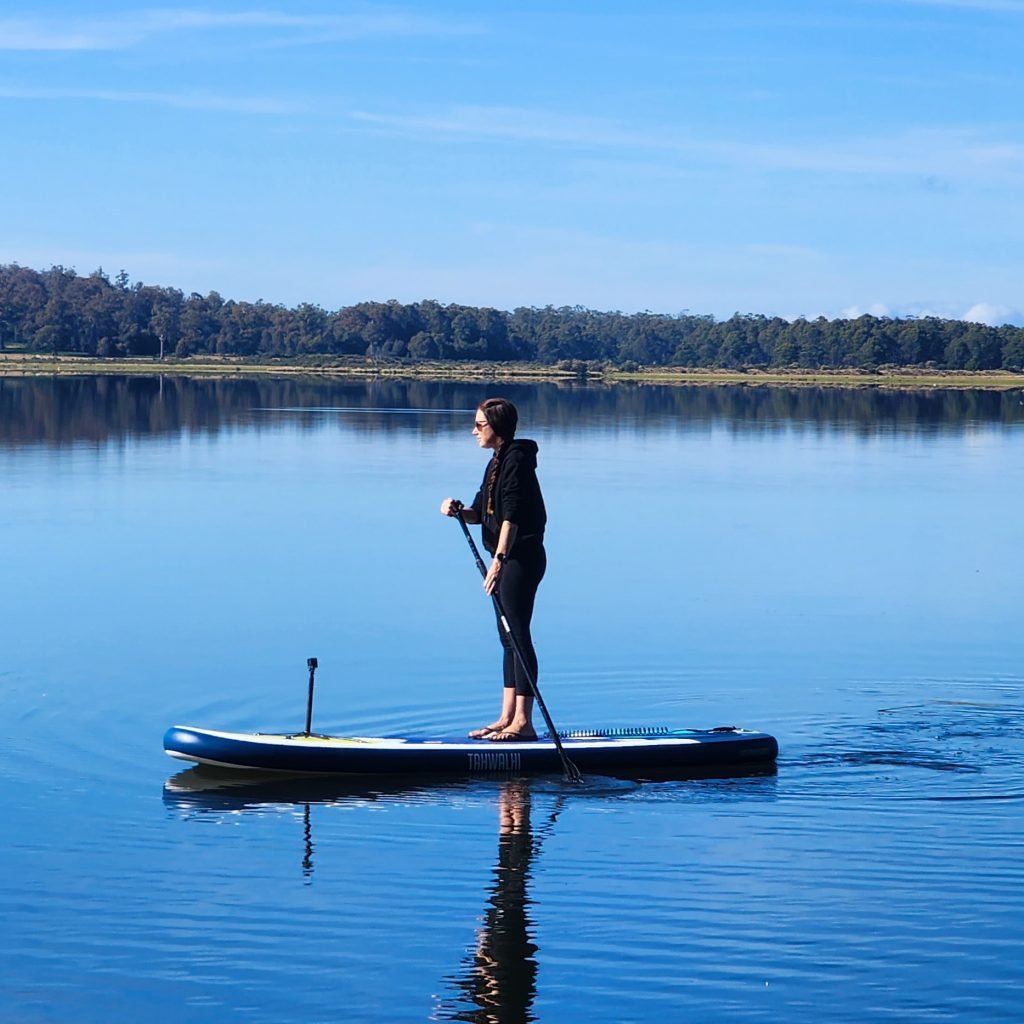 Day Trips/ Points of Interest (cont.):
Montezuma Falls (from Lake Mackintosh) – Tasmania's tallest waterfall, a long walk even though it's on the Great Short Walks list! Thankfully it is all flat and easy, bar the final couple of stairs to the lookout platform and the suspension bridge! Hot tip: Definitely need waterproof shoes as best as you can as the path seems like it would always be wet.
Cradle Mountain – Pencil Pine Falls and Rainforest Walk – It is a short boardwalk near the Ranger Station, approx 20mins loop.
Cradle Mountain – King Billy Pine and Enchanted Forest Walks also reasonably short, easy flat walks bar a few steps occasionally, which both start from the Ranger Station. We also saw wombats, wallabies and pademelons on these walks and highly recommend them, they are beautiful.
The Mountain, Cradle Mountain! – Dove Lake and Lake Wilks – We did one big day to achieve a few sections of the mountain walks as a loop. Head to the Info Centre and onto the bus to Dove Lake. Start by taking the track to Dove Lake Circuit and the Boatshed, it is beautiful. We then continued along the Dove Lake Circuit and up to Lake Wilks. From there we continued up to where this track meets the Face Track. This was the hardest park of the walk so far, it involved climbing up steps made of trees roots and not really a path to follow, holding onto chains while climbing up rocks and along next to some lakes, but wow what a view.
The Mountain, Cradle Mountain! – Face Track, Kathleen's Pool and Marion's Lookout – This wasn't as strenuous as the previous section, but we were tired. The views of the Mountain Summit and the lakes and tarns are incredible!
The Mountain, Cradle Mountain! – Crater Lake, Crater Falls and Ronny Creek – We continued from Marions to Crater Lake, Crater Falls and along to Ronny Creek to the bus. It was along here is where we stopped counting wombats at 17!! We absolutely loved this section of the hike, it was an absolutely stunning part of the hike and even if you just did a one way to the falls and back it would be worth it. If you can only manage smaller walks, do this section and Dove Lake too and you'll have a wonderful Cradle Experience. Extra tip, we were walking back to the bus at 5pm ish and that's when the wombats start to emerge along Ronny Creek.
Devils at Cradle – What an awesome tour and organisation, they give so much info, the number of Devils and Quolls you can see and learn about are awesome and they are doing a great job, helping this little species to beat extinction. Definitely put this on your Tassie list!
Day Trips/ Points of Interest (cont.):
Little Penguin Observation Centre (from Cooee Point, Burnie) – we saw penguins in the nesting boxes on the cameras which were cute!
Upper Burnie Lookout (from Cooee Point, Burnie) – great views and town history
Fern Glade Platypus Reserve (from Cooee Point, Burnie) – no platypus were seen but great info signs to learn a little more about the Tassie platypus
Burnie Park and Oldaker Falls (from Cooee Point, Burnie) – great playgrounds, nice waterfall and lovely grounds for a walk.
The Nut Stanley – Chair lift to the top (or walk) and wander the loop around. Such a great 360deg views from up there on this extinct volcano.
Rocky Cape National Park (from Stanley) – a dirt road that takes you to a few beaches, some cliff lookouts and a lighthouse.
Arthur River and the Tarkine Loop (from Stanley) – a very unique part of TAS. We stopped at 'The Edge of the World' after stopping for some lunch at the takeaway (which the chips and gravy were delicious btw!) There are many walks and attractions on the loop and we didn't do them all. We stopped at the Sumac Lookout and the sink hole, but we really enjoyed this ancient forest drive and highly recommend it!
Trowutta Arch (from Stanley). We did this as a part of the Tarkine Loop but you could just do this on it's own. The photos really don't do this place justice, it is just one you will have to put on your list to see for yourself. It is an easy short walk through a beautiful rainforest, with only a few steps, and it brings you to an amazing arch and sinkhole to view.
Penguin (on the way from Stanley to Leven Canyon) – We came to look at the token penguin themed town and happened to stop for a delish lunch at the Penguin Beer Co, the water views, as well why not really! p.s. great gluten free burger here!
Leven Canyon – another beautiful landscape, with yet another awesome free camp! There is a loop walk you can do, or two out and back lookout walks if you don't want to do the steps in between. We went to Cruickshanks Lookout, then down the 700 steps to the Edge Lookout and back to the picnic/camp area! We are glad we guessed correctly and didn't have to walk up the stairs! You can also drive to the canyon floor and do a walk there too, but apparently it is a bit more strenuous and the track is a bit hard to follow so we chose not to do this one.
Spreyton Cider Co (from Wilmot River Camp) – Dan's favourite cider in Tassie. The grounds are awesome here too where you can walk through the orchard with info signs of the history, there's a playground, outdoor eatery with food truck and awesome customer service.
Tasmazia (from Wilmot River Camp) – a must do in Tassie with kids. We had great fun in the mazes and found almost all of the items on the treasure hunt list! The village of Lower Crackpot is so creative, plus the views of Mount Rowland on the drive and from the picnic area are just brilliant!
Reliquaire (from Forth) – Another must do in Tassie with kids (even without!). It's a shop that really takes you down the rabbit hole and this small Aussie business is so unique, it needs supporting! We had a drink in the cafe and bought some fudge, but the toys, gifts and homewares in this store are incredible.
The Big Platypus (from Forth) – always have to stop for a pic with a Big Thing right?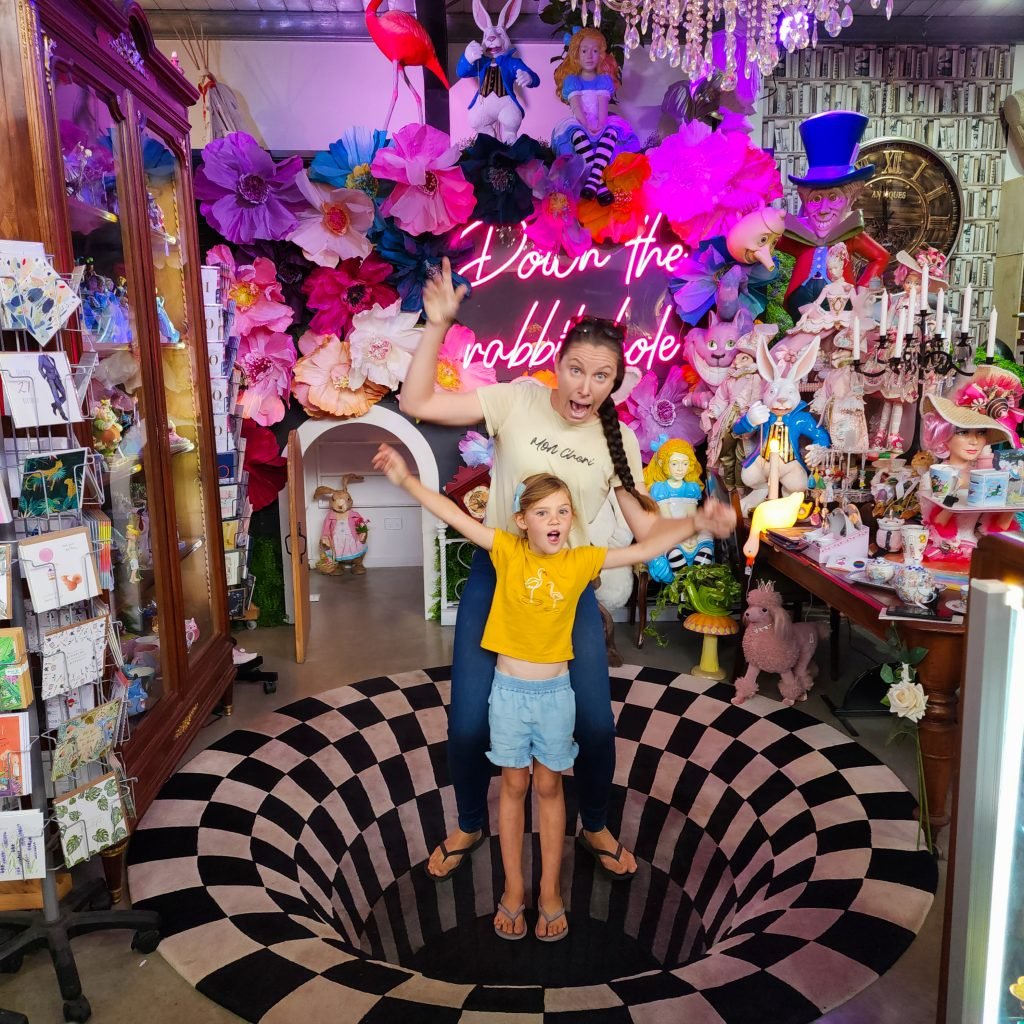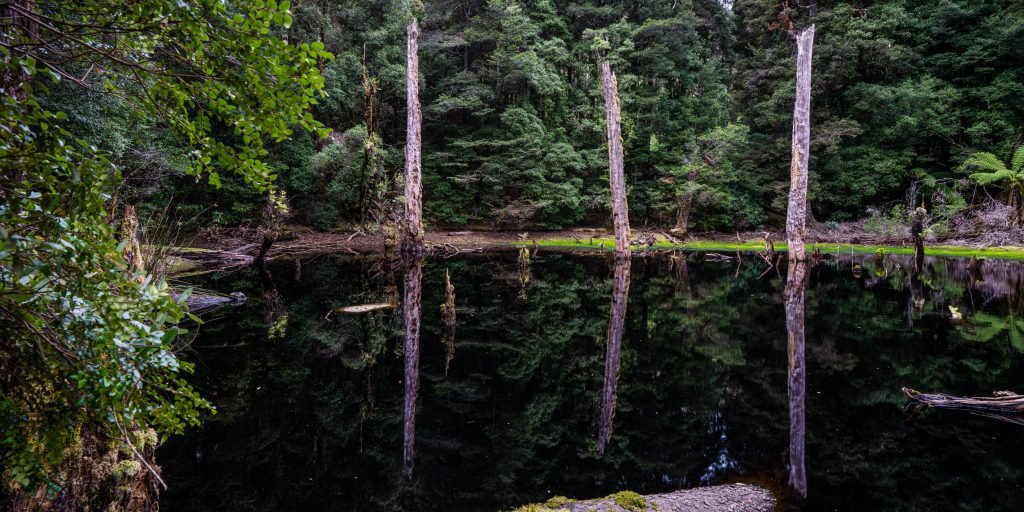 Watch all of these amazing locations and get extra info in the YouTube videos below!
If you enjoyed this blog or found it useful, please feel free to click on any of the ads on the page, it doesn't cost you anything, but it does help us see a little money to cover the hosting costs of the website.
Further, if you are looking to support us in other ways, you can buy a product from our discounts page, purchase a piece of Dan's photography art or 'buy us a coffee".
Finally, don't forget we have all the other areas of Tasmania on our website, plus so much more!
Thanks heaps!! 🙂