Hi Everyone! We loved our time up in Cape York, so thought we should give back to the community and write this guide to taking your caravan up to the Tip. This guide will compliment our series of video's of our travels up there, and give you a great idea of what is possible and what to expect.
Gear
If you have a Semi-Off-Road caravan, and any 4WD tow vehicle you should be fine! Be aware that the road from Laura to Seisia can be rough and very very corrugated, but that road condition changes every day. You could have a super smooth bit of road after a grader has gone through, or, like we did, an absolutely horrible part that hasn't been graded for 8 months.

Our caravan has independent suspension and is dual axle, although we saw all sorts of vans both on the road and up at Seisia. Our Caravan has no extra re-enforcement inside and to the interior cabinetry, which lead to a few incidents, such as a drawer coming out, our fridge partially coming out and a crack in our microwave fascia. The more expensive vans supposedly are better put together in this department. We had people telling us left and right that only a fully off-road caravan should make the trip, but we disagree.
As to tow vehicle, that is completely up to you. There is no technical four wheel driving required to get to Seisia or Weipa, although there is a small, minor creek crossing required to get to Pajinka (The Tip), it's nothing that you can't do in a 2WD ute or similar. Saying that, there is a whole lot of off-roading adventure you can and should do while you are up at the Cape, so we would strongly recommend a 4WD vehicle with a snorkel and a 2″ lift, to tackle amazing tracks such as the Old Tele Track and other amazing places.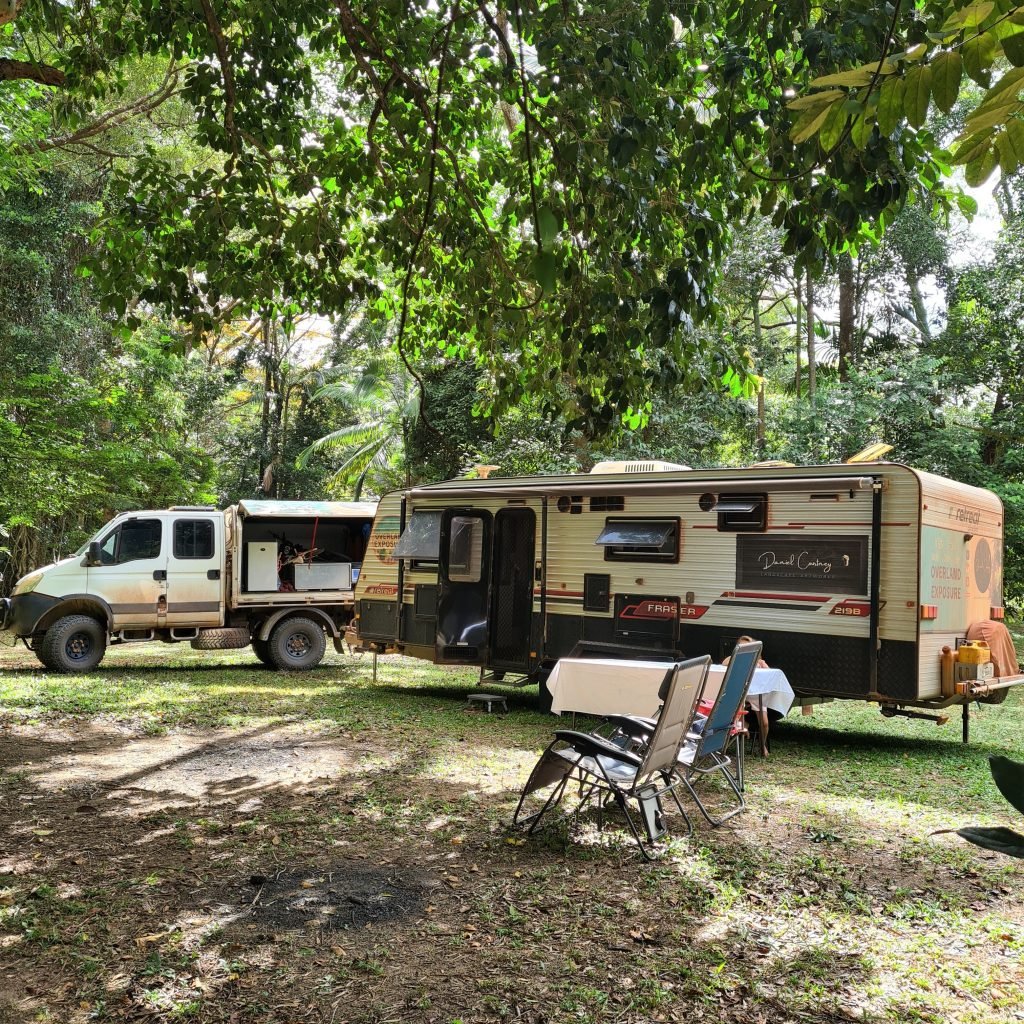 This may come as a surprise to you, but fuel is expensive up at the Cape, as is just about everything else! Fill up as much as you can at Lakelands for one of the last reasonably priced service stations. (The service stations up at the Cape have significantly higher transport costs, so it makes sense that they are more expensive).
Gear Advice
We always recommend carrying enough water to last you a few days at least if you break down, and although there is always vehicle traffic up and down these roads, it always pays to be prepared.

Take some gear to be able to do minor repairs yourself. Things break on corrugations! It doesn't matter if you have a brand new vehicle or caravan, a trip on corrugations like this is almost guaranteed to shake something loose. We carry –
Duct Tape (for repairs, and also stopping dust getting inside)
Cable Ties (for everything that duct tape won't fix)
Tube of silicon & Liquid Nails
Aquacheck Putty (for fixing water tanks and lines)
A few John Guest plumbing connectors (straight and right angle) and some John Guest pipe. This is for your caravan plumbing underneath or in your hot water systems or cupboards.
With these items above, you should be able to temporarily sort out a lot of small issues that may come up, before they get any worse.
Have a UHF radio fitted to your vehicle, or at least carry a handheld one, set to Channel 40. This is invaluable for checking around blind bends, to chat to grader operators and roadworkers, and to see whether it's safe to pass another vehicle (you won't be able to see through the dust).
Main Towns
Cooktown
This is the largest town of the Cape, and is much more like a regular town, with a few servo's, supermarkets and a small hospital (I've been), it has a few caravan parks, an RSL, Botanic Gardens and some excellent history and fishing.

Weipa
This is the main mining town of the Cape. About halfway up on the Western side of the Cape, at the end of the Peninsula Development Road, Weipa services a large area and has services like Fuel, Supermarket (Woolworths), Bakery and mechanics. This is the last place you can get semi-reasonably priced fuel on the way North, until you hit Seisia. Most supplies to Weipa are sent in on a barge, so expect higher prices for just about everything compared to a normal town.
Seisia/Bamaga
These two towns are the highest on the Cape and the most remote. You must cross the Jardine River to get here by road. Bamaga has a hospital (which we had to utilise), a bakery, a very small supermarket, a chemist, service station and a pub. Seisia has a takeaway shop, a small supermarket, and a mechanic. (yep been here too, Mark at Top End Motors is excellent!). Expect very high prices for food, drinks, alcohol and fuel, as everything has to be barged up to Seisia from Cairns. There are 3 caravan parks in the area, which I will discuss more later on.
Thursday Island
Thursday Island is the regional capital of the North, and is surprisingly large. 3 Pubs, supermarket, hardware store, cafe's and a hospital (I skipped this one!) and lots more! It even has paved roads all over!
Regions, Attractions and Roads
Cooktown and Lakelands Region
This area is the Southernmost of the Cape. Heading North from either Cairns or the Atherton Tablelands, you will cross a significantly large scrub area before eventually getting to Lakelands, where you can turn left for the Cape, or continue straight to checkout Cooktown. Alternatively, you can head north from Cairns and up through the Daintree and the Bloomfield Track to get to Cooktown, but it's not suitable for Caravans. We did the Bloomfield Track as a day trip from Cooktown South! You can camp for free at the Lakelands Pub, but it's polite to drop in and ask the publican, and stop in for dinner. After this, you can head North on the PDR (Peninsula Development Road) and start the trek up to The Tip. There are a few day trips you can do in the Cooktown area – Colour Sands, Isabella Falls, Endeavour Falls, Trevathen Falls, Bloomfield Track, Lions Den Hotel, Wudjal Wudjal Falls.
Peninsula Development Road (PDR) – Lakelands to Weipa
This Southern area of the PDR is the most paved and easiest going as you head North. You can expect generally good conditions for the roads down here as they get a lot of attention. Roadworks to pave the whole PDR are continuing slowly in bits and pieces.
Laura is the first town on the PDR. It has a population of about 220, and is famous for it's Indigenous Rock Art. The paved road ends a bit after Laura, but only for a short while until you are back on the blacktop. We recommend letting your tyres down a bit when you hit the first bit of dirt, but not all the way, as you still have a fair bit of paved road to go, and if you are inflating and deflating every time you go from dirt to tar and back again it will take you a month to get to The Tip!
Hann River Station is a great stop, with a resident Emu. We had dinner at the roadhouse and it was nice. They also have free (slow) Wifi if you are staying here, which is a nice bonus.
Coen is the next largeish town, and has decent 4G reception, a water fill up and dump point, fuel, a caravan park and a small grocery shop. We highly recommend staying at a place called "The Bend" on the northern side of town, there are a bunch of nice camp spots down by the river that still have reception. If you are adventurous you can cross the river and camp on the other side, but only with a small caravan or camper trailer.
Archer River Roadhouse a nice green spot to stop, fuel and small groceries, the river has fantastic free camping right on the sandbanks or you can camp at the roadhouse too for a fee!
Telegraph Rd Intersection the famous turn off to head North, most people stop in at Weipa first, which means continuing along the PDR. There is a shortcut (Batavia Downs Road) to get back onto the Telegraph Road from Weipa. When we drove this shortcut the condition was great, with only a few causeways to watch out for.
Telegraph Road – Weipa to the Jardine Ferry (not incl. Old Tele Track)
Take the Batavia Downs Road after leaving Weipa and you will pop out onto the Telegraph Road, South of Bramwell Station. The Batavia Downs road was in significantly better conditions than the Telegraph Road. This stretch of road was the worst in our experience, although this changes all the time. There were significant rough stretches that hadn't been maintained (graded) for over 6 months, and cars, vehicles and caravans were literally falling apart from sections of these roads. This section includes the Old Telegraph Track.
Frenchmans Track One that we chose not to tackle on our trip, it famously crosses the Wenlock and Pascoe Rivers, and ends up out at Chilli Beach, Lockhart River and Portland.
Moreton Telegraph Station a green oasis in the scrub, they even sell ice creams, coffee and food here. The facilities are basic but well maintained, and it's an excellent place to sit and be out of the red dust for a night. Quite a lot of history to check out here also, and a nice little exhibition showing the history of the station. There are bushwalks and billabongs/dams for fishing too.
Bramwell Station Tourist Park (is separate to the Bramwell Station Roadhouse, which is about 15 minutes North). The Tourist Park features a massive, massive paddock, which you can setup anywhere you like on. There are a few toilets/showers dotted around, and several water points, but no power. The Tourist Park has a restaurant, music and a bar. The restaurant operates on a booked basis only with a set buffet menu at a fairly high price per person. We were not massive fans of the food, but it was hearty and filling (and we didn't have to cook it!) The entertainment was outstanding with comedy, singing and tall tales from a few entertainers as you eat and afterwards. Anyone is welcome to come and listen, buy a drink and enjoy the show, but you'll be sitting on the tables outside the main hall while the paid diners eat. No phone reception or Wifi here.
Bramwell Roadhouse sits 15 mins North of the Tourist Park, has fuel etc and camping. The Old Tele Track (South) starts here! I'll discuss the Old Tele Track in it's own Section. The Roadhouse does have free Wifi!
Fruit Bat and Elliot/Twin Falls These are the Jewels of the north in our opinion! The nicest and most beautiful spots in the whole of Cape York. This is the spot where the Southern Section of the Old Tele Track meets the Northern Section, and also crosses the Telegraph Road. Fruit Bat Falls is 2WD accessible, and you can take a caravan in to the falls parking, however we don't recommend it as there are a lot of large speed humps and if you don't have great clearance you will probably smoosh something on them. There's plenty of space to leave your caravan next to the main road, and even a great little clearing for free camping in. We spent about 3 days here ourselves, and there is space for about 6 – 8 setups, if you are friends and camp close, 4 if you aren't :). Elliot/Twin Falls/ The Saucepan is a bit harder to get to than Fruit Bat, and requires a small shallow water crossing and bumpy dirt climb that any SUV should be able to handle. It's actually on the start of the Old Tele Track North section, but the road doesn't get really gnarly until after Elliot and Twin falls. No internet reception here at all.
Jardine Ferry and Campsite This is the end of the "Middle" section of the Cape. The ferry has generator power and filtered river water available, although it's potability is questionable. We filled up tanks here and used it and drank it after their filters and ours and had no issues, but we leave that up to you. The campsite has toilets and showers, and even a washer and dryer. There are also power points in the toilet blocks, and they didn't seem to mind if you ran a power cord from them to your caravan if you are on struggle street for power. The Campsite here costs a small amount per person, and makes a decent stop while you wait on the ferry the next day (or until after the weekend for us, waiting on a RAQ tow truck!) There is also 3G internet available at the Ferry camp.
The Old Telegraph Track
I won't go into detail on the Old Tele Track, but we have a copy of HEMA "4WD Adventures – Australia's Top Tracks" and that has a nicely detailed few pages on the Old Tele Track. It's not really necessary, you can just follow the track and take it as it comes, but having some foreknowledge can also be great, especially in the form of a hardcover book that will always work where there is no reception. (The whole Old Tele Track has no reception) There are North and South sections, and also a spot after Gunshot on the Southern Section where you can head back to the main road.
We chose to do the Old Tele Track in 2 separate day trips, split into the South section and North section. For the South section we camped and left our caravan at the Bramwell Tourist Park for the day. It was a long day to complete the South side of the track, we recommend starting at 8am-ish, not 10am.
To tackle the North side of the Old Tele Track, we camped and left our caravans at the clearing next to the Fruit Bat Falls turnoff. It was another solid day to complete the North section and drive back down to the clearing. You can of course tackle the track differently, some choose to take swags or tents and do it in one hit with a night or two stopping and camping on the track, and others take camper trailers in from the middle of the track back to Gunshot to camp.
The tracks are generally South to North, while this isn't an official rule, having traffic coming the other direction is really annoying to pass on the tight area's and challenges. If everyone sticks South to North it flows a lot better and the challenges appear easier.
We highly recommend NOT tackling the Old Tele Track by yourself – It has significant, unavoidable 4WD challenges that you will have to do, especially after you complete the first challenge. Maxtrax or similar are great for helping to get out of slippery mud especially during some of the climbs, and everyone having a winch (or at least one winch in your group) is pretty much a necessity. During Dry season, there is generally going to be enough people transiting the track that you can get help if you really need it, but relying on others in this remote situation is asking for trouble in our opinion.
Also, a 2 inch lift, high clearance and driver confidence 4WD'ing would be a minimum in our opinion to tackle the track. This should NOT be your first ever 4WD track unless you are travelling with other more experienced people who are willing to help winch you out of creeks.
Also, our truck measures roughly 2.32M wide, 2.7M tall and 5.8M long. We barely fit through the Palm Creek exit (scraped both sides of our canopy badly) and also the left hand Gunshot entry (had to widen the cutting slightly and scraped both sides of our canopy). Consider this if you are travelling in a larger vehicle than us.
Lastly, there is Cyprus Creek on the Northern section – It's a narrow, unofficially created, not at all engineered wooden log bridge, (Literally logs that have been felled over the ravine and strapped together with ratchet straps as they rot and fail). We headed over in our 4.5T Iveco Daily light truck, and our wheel width only just fit on the logs. Weight wise it didn't seem to be an issue, but it was very nerve-wracking. If you are heavier than us it's going to be up to you to decide whether to tackle the Northern section or not, because there isn't any turning back by the time you get all the way to the log bridge.
Northern Peninsula Area
This region comprises of all of the mainland North of the Jardine, and includes Bamaga/Seisia (which I've written about above) . Your ferry fee includes the right to camp at a number of free camps north of the Jardine. There is a decent bit of phone reception up here from Telstra, from the main towns and across the water from Thursday Island. We stayed at the Seisia Holiday Park for an extended period of three weeks and really enjoyed our time there. It's a completely different world up here, with town dogs roaming, town horses roaming through the campground, epic fishing off the pier and beaches, crocodiles and generally friendly locals. There are alcohol limits up here to be aware of, you aren't meant to carry over a certain amount of alcohol into the community. You can purchase alcohol at the Bamaga Tavern, but try not to have a heart attack when you see the prices. Also note – Cider is classed the same as Wine and has sale limits of 5 stubbies or cans, whereas beer can be sold a case at a time. No spirits are available for purchase here and they are completely banned from this region.
Turtle nesting camp is our favourite camp in this area. Free, isolated and with phone reception (if you have one of our Internet Kits – https://overlandexposure.com.au/how-to-get-internet-anywhere-in-australia-remote-internet-guide/ ) You camp right on the edge of the sand, looking out at the ocean. There is only space for about 3 caravans here. If you are lucky and come at the right time of year you will get to see turtles coming and laying their eggs, or babies hatching out! The track in is short and does have a steep and rutted section, but any semi off-road caravan should make it down and back up again. There is a parking/turning area before driving down the last steep part, so park here and send someone down to check there is enough room to camp, if not turn here as there won't be room at the bottom if it is full.
The Tip of course is a must visit. There's not much to say, except that the road in is small and winding and has a small creek crossing to tackle. I wouldn't take a sedan across it, but any SUV or 4WD should be fine. There is a bit of a walk up and over a hill to get to the Tip itself, or if it's low tide, you can walk along the edge of the tip on the sand and then do a shorter climb up to the tip. Be croc aware though! There are currently PortaPotties up there, however toilet facilities are slowly being built. Also you get to drive through the abandoned Pajinka Eco Lodge, which is a sad tale.
Punsand Bay a private camping area/resort as close to The Tip as you can get. There are cabins and various campsites to choose from but not many spot can accommodate big rigs and they book out early. We just enjoyed a couple of afternoons here, Aria had a swim in the pool, the woodfire pizzas were delicious and the drinks were on Torres Strait laws, so more variety. You can sit by the beach and watch the scenic helicopter flights come and go from here too, or book one for yourself.
5 Beaches Drive starts at the abandoned town of Somerset and follows the beaches down the coastline for a bit. It's an interesting way to see the eastern side of the peninsula, and particularly all of the rubbish that floats across oceans and ends up stuck here. Not much of a 4WD challenge, but an interesting way to spend a day.
Thursday Island and the Torres Strait Islands
Thursday Island is the capital of the Torres Strait area, and has the main hospital, paved roads and even cafes! Something that we sorely missed after a few weeks in Seisia/Bamaga. You can get to Thursday Island either by regularly scheduled Ferry, or on an islands tour. We chose the Ferry so that we could spend as much time as we wanted on the island. We were considering an overnight stay, but given the expense I think a day trip is fine. The island is small enough to walk or ride if you want to take a bike over on the ferry, however we just walked. You can pop up to the fort at the top of the hill for some history and to see the old cannons (and get a great view of the islands) head to the Northernmost pub in Australia (disputed by Christmas Island, but we won't get involved in that argument!). There are 4 pubs on the island and they are all very similar (we were told they are all owned by the same family), we had a decent Schnitty and some cider. Also alcohol prices are significantly cheaper on Thursday Island than Bamaga, so if you are up to carrying a case back on the ferry that's a good option, remembering the liquor rules.
Roko Island Pearl Farm is technically part of the Torres Strait Islands, but your host (and the islands owner, Jonothan) will pick you up from Seisia, Loyalty Beach or Punsand Bay. https://www.rokopearls.com.au/ Roko is a tiny island that houses 4 glamping tents, a bar/dining area, kids play area and a hammock to relax in and a small staff house. It's expensive to stay here, but a night here was one of our most memorable experiences ever. Highly recommended! You can also visit on a day tour (3 Islands Tour), but we felt like residents when the tour came to the island with them as intruders on our peace and quiet!
What if something goes wrong or breaks with your vehicle?
This is really important to know! For starters, lots of people make this trip every dry season, and they mostly are nice and helpful, so if you are stuck on the side of the road and have no way to go on and no phone reception, wave down a passing vehicle (if they haven't already stopped to see if you need help) and see if they can help.
RACQ (Automobile Society Queensland) operate services in the lower regions of the Cape, and also have Tow trucks based in Weipa and Bamaga. If you have Auto Club membership in your home state the benefits are national and can mean a big difference up here. We have NRMA Ultimate membership in NSW, and made use of it up at the Cape, with a free tow from the Jardine Ferry to Bamaga of both our Truck and Caravan, after an unfortunate water incident on the Old Tele Track. It's really common for things like alternators and starter motors to give up here (looking at you Toyota Landcruisers and Prado's) with the corrugations and water crossings. Also your vehicle suspension takes an absolute beating on the corrugations, no matter how much you slow down and run low tyre pressures.
Generally if you are at Bramwell Roadhouse or North, the preference is to tow up to Bamaga, and if you are South of Bramwell they generally will tow to Weipa instead.
If your vehicle suffers major mechanical issues, we highly recommend Mark at Top End mechanical. https://www.facebook.com/people/Top-End-Motors-Cape-York/100057641881038/ He is a really really talented mechanic and extremely hard working, especially during the Dry Season. He also bills fairly (especially considering the remote location and extra costs up here) and has a large range of common spares required, (especially Landcruiser, Prado and Hilux spares and alternators, radiators starter motors!). He completely repaired our Iveco Daily engine after it was drowned and as our vehicle is unusual, we do make sure we carry all of the oils filters and lubricants required for our vehicle, which really really helps. If you have mechanical issues with your caravan like suspension or brakes Mark can likely help also.
What if your vehicle is severely mechanically damaged or written off? The Barge from Cairns stops at both Seisia and Weipa, and it's the most likely way you will get your caravan back home. Be aware there is usually a significant wait for this barge and it's not cheap, hopefully you are covered by insurance if something bad happens.
Hints and Tips
Lower tyre pressures – This should go without saying, but it's made difficult by the fact that the PDR has lots of small paved sections mixed with unpaved. The PDR is scheduled to be fully paved, although this is likely still a while off. It has approximately a 50/50 mix of paved and dirt at the moment. We ended up with our truck tyres down at 28PSI for the whole Cape trip, and only inflated them again after hitting the tar at Laura.
Take it easy on the road – Some people think it's a race to the tip with the way they drive, and this is extremely dangerous. The dirt of the road is very very fine and red, and get's thrown up in large quantities by vehicles. It makes it almost impossible to see any road conditions while you are driving behind someone, and overtaking is a massive gamble that nothing is coming if you don't have a UHF radio to ask them if it's clear, as remote as you are it is a very busy and popular area in the Dry Season.
Take a UHF Radio – UHF's are a good idea any time you are travelling around Oz, but up at the Cape they are a necessity for overtaking. Even a small handheld one would do if you don't have a vehicle mounted UHF. Channel 40 is the commonly used channel.
Carry enough water – Water stops are reasonably common, but it's a good idea to always have a few days drinking water on hand in case something goes wrong.
Carry Cash – Not usually necessary with the prevalence of card readers up here, but the internet can be spotty, so carrying a decent quantity of cash with you for unexpected expenses can be a good idea.
Lock everything up – Unfortunately petty theft and crime are common up here, both at Weipa and the Northern Region. Consider your security when selecting sites and camps, and definitely don't leave any fridges or eskies outside at night when you are near a town, lock up bicycles etc and don't leave phones/wallets etc in easy access.
Expenses – Consider that everything is significantly more expensive up here. Both at Weipa and Bamaga/Seisia. This is mostly due to high transport costs, most things are barged from Cairns up. There's no point getting upset or angry about it, it just is what it is! Saying that, we generally saved money on our trip up to the cape, as there is a lot of free camping if you want to do it.
Litter and Rubbish – Bins are few and far between up here, mostly at the larger roadhouses and towns. A dirty gear bag is a great idea to be able to store your rubbish until you get to these bins. Unfortunately there is a fair bit of rubbish around up here and we really hope our readers don't add to it!

If you're interested in our suggested off-grid caravan/camping Cape York Itinerary click here.