We spent 6 weeks exploring Cape York and the Torres Strait Islands, which was amazing. We are not on a time limit for our travels (plus were broken down for a chunk of that) and understand a lot of people are, so we have put together what we think is a good itinerary to make the most of your adventures to Cape York.
This is our suggestion for a return trip to Cairns/Port Douglas. Obviously it isn't going to suit everyone but hopefully will give you some helpful hints.
Day 1 – Leaving Mossman area, a beautiful drive through Julatten and then the first night was just a gravel pit type free camp – Kennedy River Rest Area, while still on bitumen. Fill up with fuel at Lakelands on the way and stop for watermelons just out of Laura
Day 2 – Hit the dirt and make your way to the Free Camp, The bend, Coen. Fill up water, empty your toilet etc on the way if needed.
Day 3 – Drive to Bramwell Station Tourist Park
Day 4 – Tackle the Old Telegraph Track South section in a 4WDing day trip. Stop at the Bramwell Station Roadhouse at the start.
Day 5 – Rest day/fix and issues at Bramwell Station. Enjoy the evening entertainment.
Day 6 – Drive to the Bamaga Road and Old Tele Track crossroads free camp (near the Fruit Bat Falls turnoff).
Day 7 – Explore and enjoy Fruit Bat Falls, Twin Falls, Eliott Falls, The Saucepan (These are National Parks, so no pets allowed. The gravel pit camp is out of the NP so can leave pets there if that is what you wish)
Day 8 – Tackle the North Section of the Old Telegraph Track
Day 9 – Cross the Jardine Ferry and make your way to Seisia/Bamaga
Day 10 – Trip to the Tip, with a stop at the Croc Tent for your souvenirs, explore the Five Beaches Drive 4WD track and visit Punsand Bay afterwards for a celebratory drink and pizza.
Day 11 – Visit Thursday Island and/or Roko Island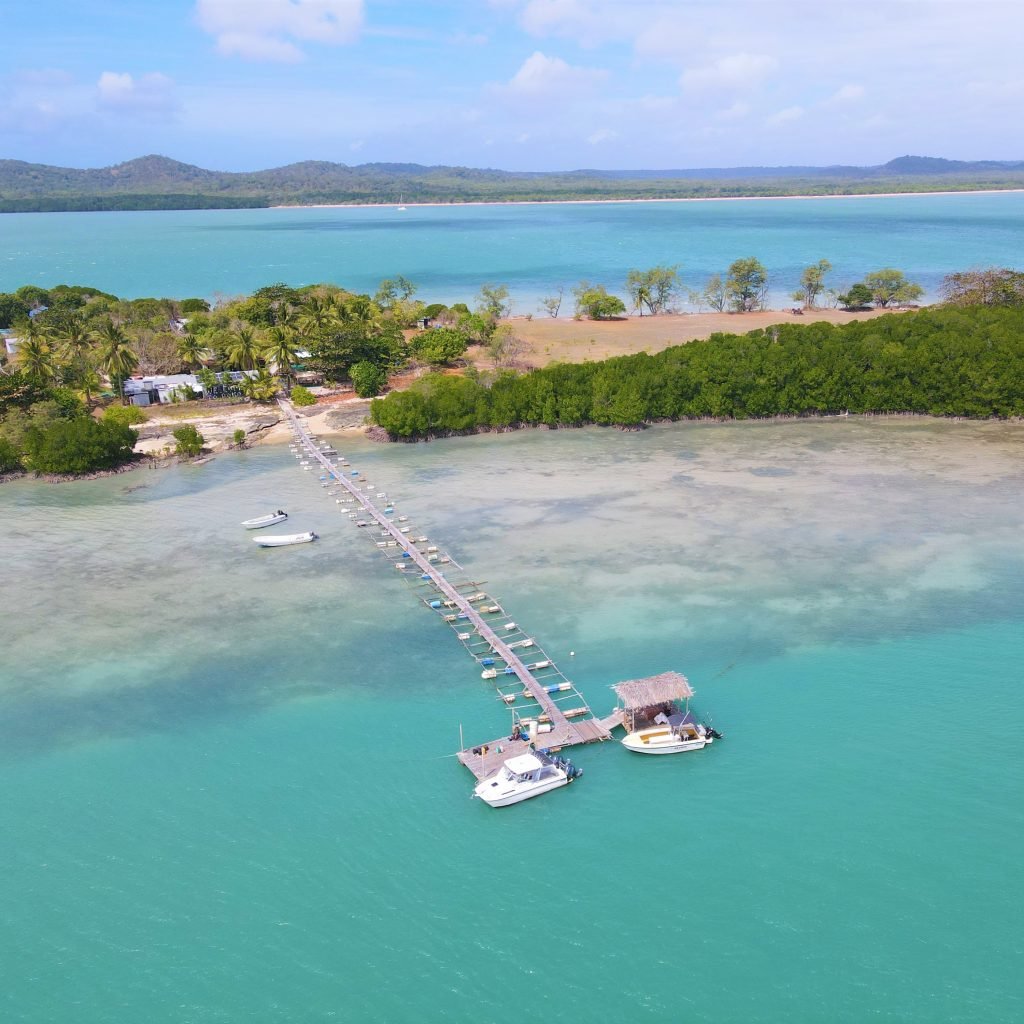 Day 12 – Visit Loyalty Beach and Alau beach (if you aren't camping at either of these and if you are visit Seisia for the jetty and beach and takeaway). Explore the WW2 plane wreck sites near Bamaga
Day 13 – Drive south to Mutee Head Turtle Beach Camp

Day 14 – 4WD day trip to Jardine River Mouth and beach
Day 15 – Cross the Jardine River again on the Ferry and go back to Fruit Bat falls turnoff camp
Day 16 – Make your way to Moreton Telegraph Station
Day 17 – Take the Batavia Downs Shortcut road to Weipa
Day 18 & Day 19 – Explore Weipa and enjoy the sunsets
Day 20 – Leave Weipa and take the PDR to Hann River Station
Day 21 – Get back on the Bitumen and air-up before continuing to Lakelands Pub for a nice feed and free camping.
Day 22 – Arrive at Cooktown and explore town (Camp – Peninsula Caravan Park or Endeavour River Retreat)
Day 23 – Take a day trip to Coloured Sands, Isabella Falls and Endeavour Falls
Day 24 – Head to Trevathen Falls for a swim

Day 25 – Conquer the Bloomfield track, stopping at Wudjal Wudjal Falls on the way and The Lions Den on the way back for dinner.

Day 26 – Leave Cooktown, make your way South back to Port Douglas/Cairns/Kuranda.
Some facts and figures of our trip that might help too:
No. Of nights: 48
Camps:-
~Free/donation/RV stops/low cost: 13 nights
~Van parks/Stations: 35 nights
Average cost per night for camping: $46 (would be cheaper for you as you won't be stuck in Seisia Caravan Park for 3.5 weeks with a broken down truck)
Fuel Stops: Cairns, Palmer River Roadhouse, Weipa, Seisia, Cooktown, Lakelands
Water Fills: Mossman, Laura, Coen, Jardine River, Seisia, Moreton Telegraph Station
KMs Total: 3587 (Round trip Mossman to Mt Malloy)
*TOP free camps:
1. Mutee Head Turtle Camp
2. Fruit Bat Falls Gravel Camp
*Favourite highlights: Fruit Bat Falls, Muttee Head Camp, The Tip, Punsand Bay, Roko Island, Trevathen Falls, Wudjal Wudjal Falls, Twin Falls.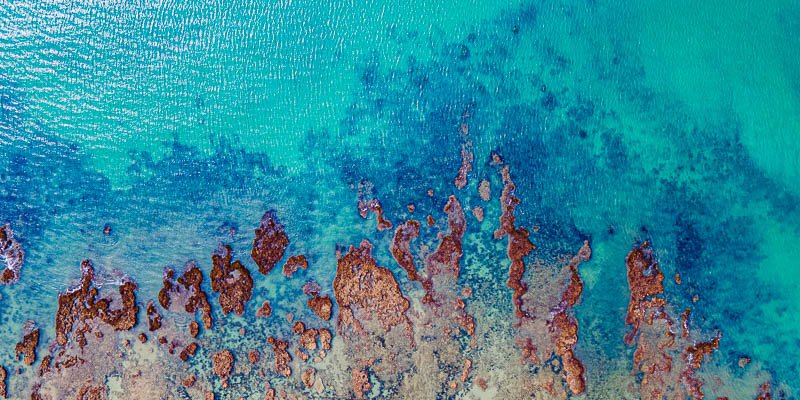 Preparation for the Trip
This included sealing up our roof hatches and vents, pool noodle wrapping the front water tap and pipe, making a sort of big stone flap for under the front of the van and the back of the truck, We did a HUGE grocery shop totalling $1700 at Woolies and Mossman Butchers and padding the cupboards a little more. (This wass planned to last about 6-8 weeks with some fresh top ups so we can be exploring as much as we like without stressing over food – plus this is why we have our truck, we have the space and weight capacity to do this, we understand you might not!) We also filled all the fuel tanks which was about $420 and filled all water tanks. We did forget to fill our second gas bottle though – oops, so remember that one too!
Damages from Cape York to be mindful of:
I'll list them in no particular order with a little detail, but we show most of it in our YouTube vids, so if you haven't watched them, head over for full details!
Caravan
– fridge fell out of its place by about 2cm and the facia snapped
– microwave facia surround snapped and damaged the timber, plus screws fell out
– concertina door screws came out
– gas bottle regulator stand thing lost its screws
– window blind broke
– drawer base fell out
– front A-bar water tap hose fitting snapped
– suspension shocks smoking and over heated
– cooktop lid bracket out of alignment
– lids of jars in the fridge unscrewed
– fridge door shelves snapped
– electric jack screws from casing came loose
– dust EVERYWHERE
– Caravan brakes short circuit
– numerous screws loosened
Truck
– flooded the engine
– dented and scraped the canopy
– snapped the water tank tap and filling cap off
– rear wheel fender
– fridge mounting points came loose
– fridge door came off
– solar panel lead snapped by a tree
*Would we change it? No
*Would we do it again? Yes
*What have we learnt? The road is bad, but so worth it, it is such an amazing part of Australia that deserves to be enjoyed and explored. Be flexible, take your time, get used to red dust and take it all in!
*What would we change? A more off-road suited/durable van or have a caravan repairer reinstall things like the fridge and door better before leaving.
*Do we recommend taking your van? Yes, if it is your first time and only time doing the Cape. You can spend a lot more time enjoying it all and taking it all in. If you were 'roughing it', you'd probably spend less time and miss so much of it's beauty. If you were to do the Cape as a second or more time, then 'rough' it and experience different places, there's so much to see!!
Anything you want to know just ask!
Watch all of our YouTube Episodes http://www.youtube.com/c/overlandexposure
If you're looking for more detailed info, more hints and tips, check out our Caravan Guide to Cape York here.