As you may know, I (Amanda) am a qualified Primary School Teacher and when I heard about the Travel Australia With Kids Quiz Book, of course my ears pricked up!
Anything educational and fun at the same time is a gem in my eyes, so when Mandy offered to send me a copy to test out and review I was stoked!
So here are my thoughts!
To me this is a must buy purchase for your trip around Aus.
There are many reasons:
everyone can play no matter the age (yrs 3-adults),
educational fun is always needed,
small book or online version,
can be played over the UHF radio with other families,
entertainment that is not screen time,
varied topics and questions to push you out of your comfort zone,
a light and fun activity that gets everyone thinking of things you wouldn't normally be thinking about,
you don't have to have kids to play, adults can play on their own too.
From an educational perspective:
Various levels of questions, so you can adjust which one you ask your kids dependant on their own ability (teachers do this all day every day).
Starts deep and meaningful conversations between parents and children, or children and children, which then leads to further knowledge and understanding or even further research into a topic.
Exposes children to information or subjects they didn't know about and may start a new interest.
Verbal listening, comprehending and answering skills are developed through the quiz.
Even if you finish the rounds, you can go back to the start and repeat it, as a child needs this repetition for deeper understanding.
The kids listening to and attempting adult questions builds confidence.
It allows parents to have an understanding of their child/rens learning and knowledge. This may then help guide any homeschooling or distance education activities undertaken.
Styles of questions asked are varied, from simple one work answers, to multiple choice or short sentence answers. This is a key concept taught in schools as children need to learn to ask questions and answer in different ways, and engages deeper understanding.
Knowledge revision for all the family and even new knowledge for some of the tricky questions!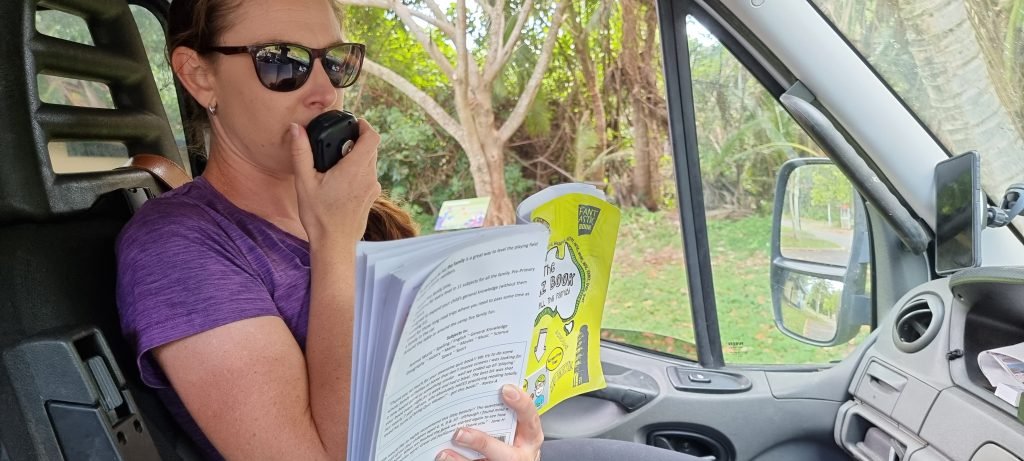 We have played the Quiz twice now with two other families over the UHF radio. This has been heaps of fun and after arriving at our destination we had some wonderful discussions about how everyone felt the quiz went and discussed some of the children's reactions.
Even Aria, who is 3.5 years, loves it and asks to play the Quiz. She loves having a go at her questions, hearing if she got it right and loves 'talking' to her friends in the other cars through the quiz.
Overall, this is a great resource to have on the road, the variety or question topics, levels and styles keeps it interesting and engaging.
If you're looking for a gift for someone heading off on the road, or already on the road, definitely give this one some thought. (Or even a TAWK Membership)
USE CODE – OVERLAND
FOR – 25% OFF "The Family Quiz Book"
USE CODE – OVERLANDTAWK
FOR – 10% OFF "TAWK Memberships"