Update 22 SEP 21 – We have teamed up with TelcoAntennas to be able to offer this setup as a package, along with a 5% extra discount for our readers! https://www.telcoantennas.com.au/remote-data-setup-for-caravans-campers-trailers-mi

Use code 649d36ue for the extra discount!

We have recently uploaded a video that explains everything here in further detail – Check it out below
Hi Everyone,
I am a self confessed tech nerd, and a Communications Technician by trade, so saying I am interested in this stuff is a bit of an understatement.
I love the Internet, and having it as much as possible is a priority for me.
Mobile Coverage and Providers
First things first out of the mobile carriers – Telstra is the carrier of choice, followed by Boost, followed by any Telstra reseller (such as Aldi), then Optus or any Optus reseller. If you have Vodafone, pretty much don't bother outside of major population centres. It's not bagging Vodafone or Optus, it's just that they genuinely haven't invested in towers outside of major population centres. Optus is heaps better than Vodafone, but still a poor 2nd to Telstra.
Why Telstra or Boost and not Aldi or the other resellers who use the Telstra Network? The resellers only provide access to the Wholesale Telstra Network, which is NOT the full network. A good map comparison is here: https://www.whistleout.com.au/MobilePhones/Guides/Telstra-mobile-network-coverage
So just to Recap: Telstra or Boost will provide you the full Telstra Coverage. Anyone else simply will not. Telstra especially are starting to roll out 5G on the 850MHZ spectrum, which will provide better speeds to much bigger areas. I Don't believe as of writing this (June 2021) that they will provide that extra 5G coverage to Boost customers.
Celfi-Go
If you ask on any of the travelling Facebook pages, or pretty much anywhere, you will be advised to use the Celfi-Go repeater system. Don't Do it! I have one, and purchased one based on advice I received. This system is stuck in the 2000's and will not provide you the best services that you can get, and it's BLOODY expensive.
It works as a repeater, you buy an external antenna, (like this one) https://www.telcoantennas.com.au/telco-omni-3g-4g-4gx-antenna-700-2700mhz And then you plug it into the Cel-Fi, the Cel-Fi "Boosts" the signal, and outputs the "Boosted" signal to another, small antenna that gives anyone in range a 5 bar phone signal. There are a few problems with this.
The Boosted signal is only available in a small area, depending on the antenna you are using. Usually inside a car/van is all.
The Antenna is doing pretty much all of the work here. There is no real "Boost" from the Cel-Fi unit itself. It's NOT giving you better internet speeds
Modern Modems/Phones use a thing called "MIMO" (Multi in, Multi Out) where they use multiple antennas to increase data speeds. Some phones and modems are able to do 2×2 MIMO, and some are able to do 4×4 MIMO. Cel-Fi is not capable of this, it is single antenna in, single antenna out.
Cel-Fi is essentially designed for 3G Voice, and it will greatly help you to maintain a voice call in remote areas. This is what it is designed for, not internet data.
Nighthawk M5 and M1/M2 Modems
So what's a better option than a Cel-fi Go? Basically any 3G/4G/5G Modem that has external antenna ports.
My choice is the relatively new Nighthawk M5 Modem from Telstra. I purchased directly from them for a price of $799. This modem is fully functional on the 5G network, including the new 850MHZ 5G spectrum.
This modem also functions well on 3g/4g, and has 2 external antenna ports, so it can do 2×2 MIMO with an external antenna or two. Also, this modem has a battery in it, so it can operate with no power supply for a period of time. It also is quite durable. (We left ours behind once, and it was run over by a car and caravan before we retrieved it, with only a slight crack in the front plastic!) It also displays Data used for the month on the front of it, which is quite convenient.
External Antenna
We have tried multiple antenna, to reach a point we are happy with. We aren't sponsored by these guys, but have found the service to be great and the shipping speed fast.
We have ended up with (and are happy with) the https://www.telcoantennas.com.au/rfi-wide-band-mimo-3g-4g-5g-panel-antenna-700-3800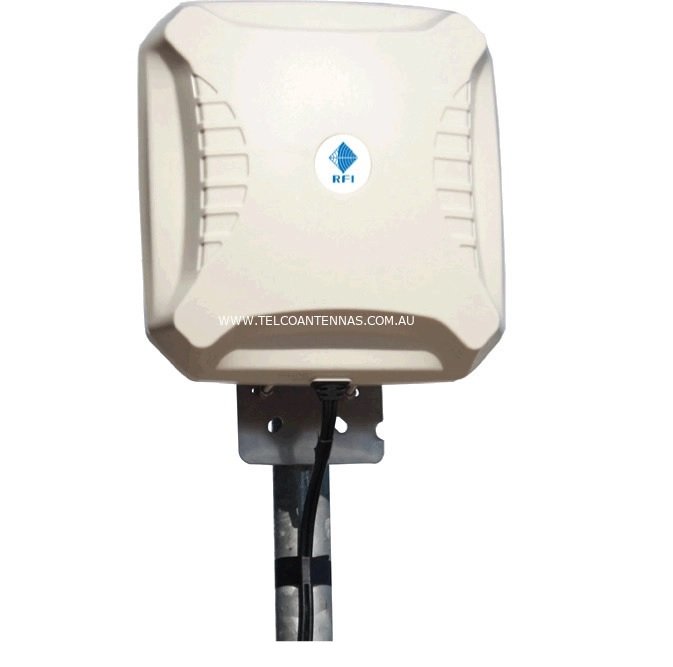 This antenna is small, light (This is important) and works really well. It's Directional also. (This is quite important as it lets you select which tower you want to communicate with)
The important point here is that it's directional. There are multiple options, but a directional antenna lets you point the antenna straight at the tower you want to talk to. (We'll get to that later in the article.)
IT also has two physical antennas located within the enclosure, and two separate leads coming out of it down to your modem. This means that it can do 2×2 MIMO and gives you double the data throughput of a single Antenna.
A Mast (Or how you get it up in the air so it's useful)
We went through a bit of an evolution to get to where we are today, and where we are happy with our mast. We started with a large Painters pole from Bunnings.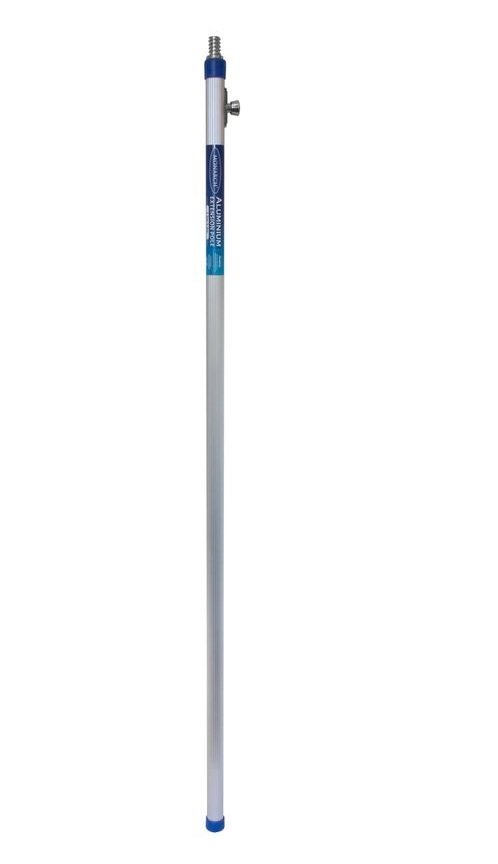 This was a reasonable option, and cheap since we already owned it. Unfortunately the panel antenna plus a strong wind decided to start bending it until we weren't able to retract and extend it properly. So we rate this option a C-
We decided to just do things properly, and purchased (also from TelcoAntennas) this drawbar mounted option. https://www.telcoantennas.com.au/heavy-duty-galvanised-draw-bar-mount-57m-telescopic-mast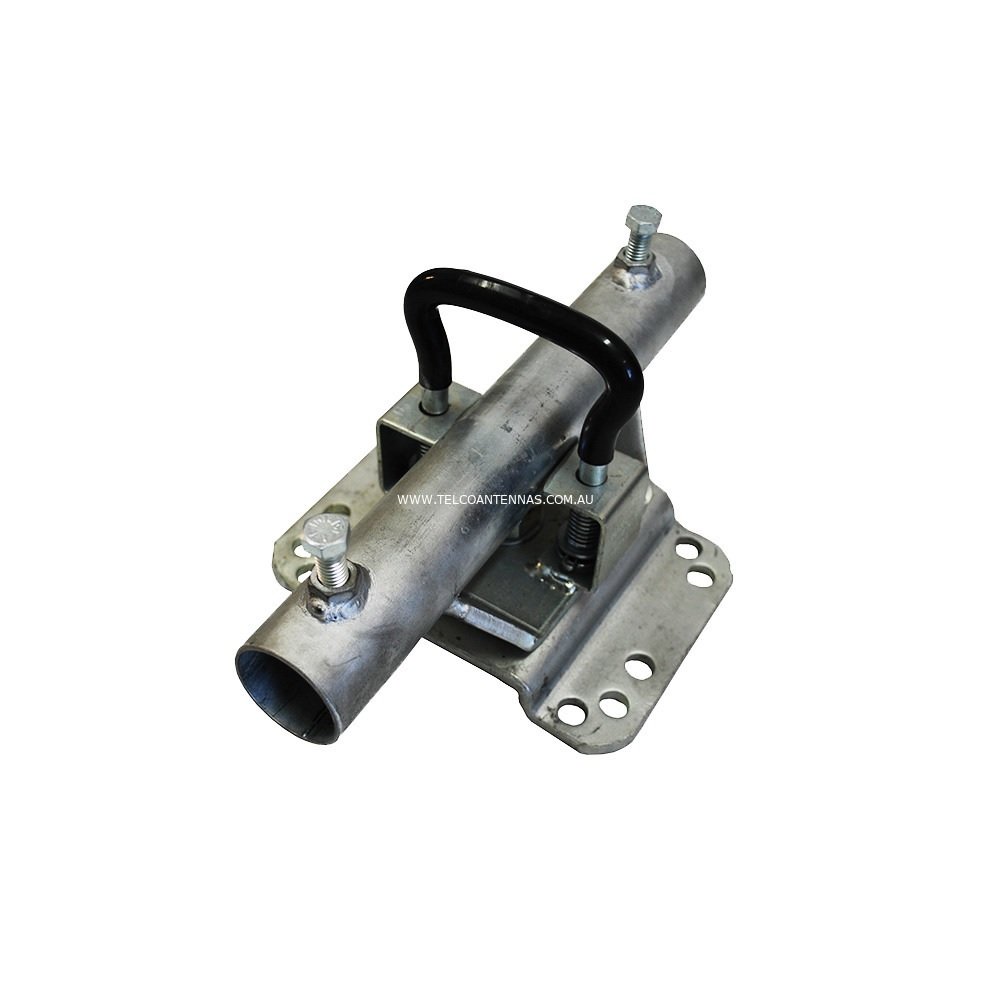 This is a 5.7m mast that attaches to the drawbar of your trailer, caravan or whatever. We got it with the U bolts for a 100mm tall drawbar, and we put it on the back of our caravan. It lives there all the time, and when we get to a site that we want better (or any) internet at, we simply attach the panel antenna and raise the mast up.
DISCOUNT CODE FOR OUR KIT – Use code 649d36ue for 5% discount!
https://www.telcoantennas.com.au/remote-data-setup-for-caravans-campers-trailers-mi
How to use an external Panel Antenna
So some of you may ask, how do I use this panel antenna on a mast? The answer is a pretty simply app called Aus Phone Towers.
https://play.google.com/store/apps/details?id=au.com.bitbot.phonetowers&hl=en_AU&gl=US
https://apps.apple.com/au/app/aus-phone-towers-3g-4g-5g/id1488594332
This is a great, Aussie developed and run App that specifically provides information to anyone, for free, about what phone towers there are in the area you are in, how much bandwidth they have and what services they provide. I've put a screenshot below from Cape Hillsborough, near Mackay, QLD.
So when we got to the Caravan Park here, we had 0-1 Bars of reception on our phones. I opened this app, and it quickly showed me exactly where the Telstra Tower was that I was connected to, and what services it had. I simply pointed the Panel Antenna at this tower and it was good to go.
How much difference does it make?
So here is a real world speed test from Cape Hillsborough Caravan Park in QLD. This is a popular major caravan park in a reasonable populated area of the world, and it says on Wikicamps that there is Telstra Reception available.
Here is a Speedtest done on my Samsung Galaxy S21 Ultra. This is pretty much the best phone and antenna you can possibly buy at the moment.
This 3.3mbps is just use-able internet. It will be slow and unreliable, barely able to load a website, and almost certainly not able to actually use Youtube or Netflix.
Now that is what I'm talking about. 22mbps is great internet speed, and is perfectly able to do everything you need to do on the internet, even upload a Youtube Video. This is in the exact same spot as the mobile speedtest above, but over Wifi and through the Nighthawk 5G and the RFI External Antenna.
How much did it Cost us for this setup?
All the prices are at TelcoAntennas, but pretty much:
Modem – $799
Mast – $285
Antenna – $313
Telstra costs us about $75/Month for 400Gb on their new Data Only Plan.
DISCOUNT CODE FOR OUR KIT – Use code 649d36ue for 5% discount!
https://www.telcoantennas.com.au/remote-data-setup-for-caravans-campers-trailers-mi
What about the future? What about Satellite Internet and Starlink?
Like many nerds, I am very, very interested in Elon Musk (of Tesla and SpaceX Fame) and his Starlink satellite internet system. This is a system of Low Earth Orbit satellites, at 550km above the earth.
At the time of writing there are over 1400 of these satellites launched, and they are slowly coming out of their Beta trials worldwide. Currently (June 2021) they are servicing to the top of NSW, across to Perth and south of that line.
Early reports are very very good. 300mbps up and 40mbps down, and anywhere in that area.
Starlink are rapidly expanding this network (Including a Central Queensland base station!) and it's predicted that by the end of 2021 they will have full coverage of all of Australia with their high speed internet.
Costs at the moment are $699 for the hardware, and $139/Month for unlimited downloads.
We have signed up for the Beta Program and will give it a go as soon as we are invited to try it out.
Conclusion
So love them or hate them, Telstra are really the only option if you are travelling Australia. We are waiting to see whether they will allow Boost access to their 5g 850MHZ network or not.
At the moment, they are the only real option, but the good news is that they have significantly upped their data limits on their phone and data plans. We have a 400gb a month Data plan for $75 a month with Telstra. Once we have Starlink, we are unsure whether we will ditch the Nighthawk or not. I think it's more convenient in metro areas to simply have the Nighthawk modem with no external antenna or satellite dish.
DISCOUNT CODE FOR OUR KIT – Use code 649d36ue for 5% discount!
https://www.telcoantennas.com.au/remote-data-setup-for-caravans-campers-trailers-mi
If you found this article useful, clicking on an ad would be a nice way to say thank you!