The Yorke Peninsula is a peninsula located northwest and west of Adelaide in South Australia. Just a couple of hours drive from Adelaide, making it a popular holiday destination for many.
We did 14 Nights, all but one in the Yorke Peninsula Council Bush Camping Sites. 2 Weeks x $100/per week = $200, average $15/night, the other was the Moonta Bay RV Stop)
Camps:
Wauraltee Beach our favourite camp on the Yorke!
What a gem!! We met so many full-time travellers, a follower (
thanks for the chat!) and also a super lovely VIC holiday-maker who was enjoying some down time! What a blast!! We chilled, we swam, we camp-fired, we SUP'd, we bodyboarded, we played and we lived! Don't let the pics fool you though, that sand is soft and puts the rigs to the test and the wind can be brutal!
Burners Beach:
This is another Yorke Peninsula Council camp which you buy a pass for online. You buy a pass for particular dates and then you move freely around the camps that have availability. We scored the last waterfront site here and we had a lovely chill time. The beach was a few hundred metres walk, but look at that water colour.
Gleeson's Landing:
Love a camp with water views out most windows and the door! Cliff top camping and stunning blue rockpools within walking distance! Another Yorke Peninsula Council Campground and all the details you can find in your Camps Australia Wide app or guides. This one is dog friendly, has bins and toilets at some points around but if you're self-contained you'll get the better spots as they're away from the facilities.
Foul Bay Boat Ramp:
There's nothing foul about Foul Bay on Yorke Peninsula! We honestly weren't sure what to expect here and hadn't heard much about it. We enjoyed a really quiet little camp (compared to the others we had been in prior to this) and enjoyed just floating around in the crystal clear and warm water. Aria met a friend and enjoyed crab hunting and playing. It is a basic camp near a boat ramp, on grass, dog friendly and no facilities. But what more do you need?
Moonta Bay RV Stop:
This is a well equipped donation RV stop with everything you need. It is only a 5 minute drive to the beach too, which is stunning. We used this as a great last night of the Yorke to clean up and get sorted before moving on. The local general store and takeaway had great food too!
Other camps to consider – Daly Head, Tiparra Rocks, Stenhouse Bay Campground (National Park), Parara – all of which were coastal camps with varying facilities.
Day Trips:
Corny Point: There's a small coastal town, on the Yorke Pen named Corny Point. There is a scenic drive along the coast, to the lighthouse which also has access to a few beaches along the way. It is dirt road for some of it but it wasn't too corrugated.
Yorke Town and the Pink Lakes: Dan asked me why we needed to see these ones because we have seen others including the amazing Hutt Lagoon. My reply, because pink lakes are cool! When he caught a glimpse on the drone, he was happy I made him detour and agreed, it was cool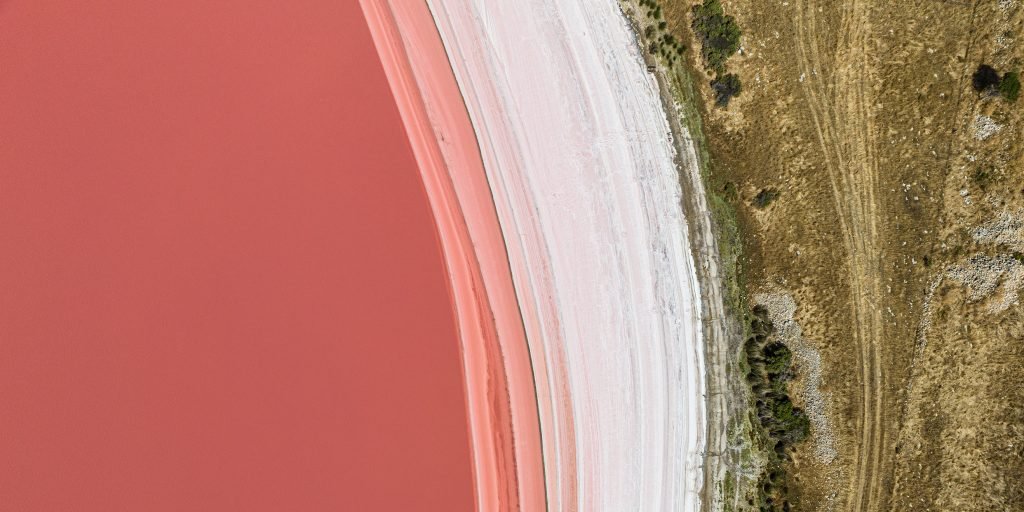 Moonta Bay, Johnsons Cove: This gorgeous bay is worth the day trip. Grab some takeaway lunch from the local general store and enjoy this shallow calm beach.
Flaherty Beach: One of the gems of the Yorke Peninsula, where you can drive onto the beach with your vehicle and spend the day. You can swim, paddle, play sports and fish with the luxury of having all the toys, food and drinks right there in the car with you!
Innes National Park: The Southern part of the peninsula and gosh it was nice seeing some greenery! After days of wheat fields and dirt roads, green shrubs and a bitumen road was a pleasant experience.
We took a day trip to the NP made many stops and recommend them all. You can camp in the NP too, but only some campgrounds have space for big rigs so make sure if you're a van you check that out before booking online. We did a full day trip as the NP was booked out, it was a big day but a great day with walks, swims, scenery and wildlife! You also need a SA Parks Pass which you can do online too. Our stops included:~ Stenhouse Bay Jetty~ Chinaman's Hat~ Cape Spencer Lighthouse~ Ethel Wreck~ Pondalowie Bay ~ Shell Beach (our fave) The beach was so clean, water so clear and blue but cold and the bay protected from the wind. At the right end of the beach, over some rock scrambling you'll find a stunning rockpool for a swim. If you remember your snorkel, you'll be able to see some cool fish apparently! If you go to the end pool of the two, at the right tide, it's like a spa! I timed that well and had a little massage
Other Info for you!
~ Water and Dump Points used: Maitland, Minlaton, Warooka, Moonta Bay
~ There are limited grocery stores, mostly smaller IGAs so stock up if you feel the need before you come. The last Woolworths/Coles/Aldi would be Adelaide and Port Pirie.
~ One main road that is sealed the rest are dirt and corrugated.
~ Weather is really an important factor and if you can plan your sides of exploring based on weather then do that. We missed a lot of the East Coast due to weather and time frame not being able to wait it out unfortunately.
~ We think you're best to do the East coast heading South and then around the bottom and North up the West side if weather works for you. This is so that you can do most of the bitumen driving in one go and the distance between Council Camps is further. Then hit the dirt and keep your tyres low and hop short distances between camps on the West side, leaving the best ones until the end and finish on a high.
~ There is so much more on the west side in terms of camping at the Council Camps and exploring the small towns.
~ There are lots more camps to stay at if you have more time than what we did. It is really dog friendly (except the NP of course) and there are also a LOT of wheat fields.‌
Watch our YouTube Episodes for more info!
Our Suggested Itinerary:
Day 1: Starting on the East side, stop in at Adrossan and stay at the Parara Council Camp.
Day 2: Hang out at the beach at Parara Council Camp.
Day 3: Head to Foul Bay Boat Ramp Counci camp stopping at Stansbury Jetty and Ocean pools on the way. The head to the Pink Lakes Tourist Drive stopping at Gietz Lake and Pink Lake, plus the water tower art along the way.
Day 4: Foul Bay Boat Ramp Council Camp – swim, fish, rockpool looking and boating.
Day 5: Head to Stenhouse Bay National Park Camp. Enjoy the Stenhouse Bay jetty and beach area for the afternoon.
Day 6: Explore more of the Dhilba Guuranda – Innes National Park for the day.
Day 7: Head over to Gleeson's Landing or Daly Head. Relax at the beach and swim the rockpools, surf the swell and simply take in the view.
Day 8: Take the coastal scenic drive to Corny Point. Stop in at the lighthouse and head to one of the many beaches.
Day 9: Move camps to Burners Beach. More beaching, swimming, fishing and view watching here.
Day 10: Burner's Beach – head to Point Turton and Flaherty's Beach for the day. Take all the beach toys, pack your lunch and enjoy this simply gorgeous beach.
Day 11-13: Relocate camp to Wauraltee Beach. Make sure to drive down onto the beach for the best camp on the Yorke Peninsula. Stay here for as many days as you can or the weather allows. This is the best camp so you really want to make the most of your time here. There are a few day drive you could do from here if you are wanting a change of scenery, however I don't think you will.
Day 14: Head to Tiparra Rocks or Moonta Bay, depending if you have had enough of the beach or not.
From here depending on your time limit you could spend another night or two along the way at Wallaroo, Port Pirie and Port Germein. If you are limited for time, then a stop at Port Pirie free RV stop for restocking and Port Germein for the jetty the next day on your way would suffice. If you have more time then definitely add some more nights to a few of these stops, none of them are bad!
From here head to the Eyre Peninsula and you can read our Guide to Caravanning the Eyre here!
(Or do this in reverse if you are coming from the West!)