We spent close to 3 months exploring the coastlines of the Eyre Peninsula. We started in Whyalla and worked our way down the East Coast, to Port Lincoln, Lincoln National Park and then over to the West Coast starting at Coffin Bay and through to Ceduna (and everything in between).
We think the Eyre Peninsula is one of the best freedom camping / low cost camping regions in Australia that we have visited to date. Every town you stop at no matter how small welcomes visitors with either RV stops, low costs or free camps, Caravan/RV parking and dump points/water fill stations. The is so much to see and do on the Eyre, there is something for everyone – Fishing, beach going, snorkelling, walks and hiking, 4WDing, surfing, nature watching, wineries, cafes and restaurants, shopping and art. You name it, the Eyre has it!
Eastern Eyre Peninsula
Beginning at Whyalla, this is a great place to restock all your supplies, get anything fixed that you need and even do a bit of shopping if you have been remote like us for a while. The jetty is a great attraction with its unique design and the friendly pod of dolphins who visit each day.
We camped up at Point Lowly, just North East of Whyalla for a few nights at the low cost camp. The low cost camp is self-registration on arrival, for $10/night. There is a toilet block, playground and book swap. The lighthouse is a must see and a short wander along from the camp area and a boat ramp right there too. Point Lowly Beach was absolutely stunning, white sand, shallow warm water, and you can drive on for the day to park up and enjoy a family day at the beach.

Arno Bay was next on our list – a small seafood town with a lovely vibe. We stayed at the family run caravan park and the owners were lovely. Lunch at the pub was a hit too and all the fisherman were constantly on the hook with squid off the jetty.
Watch here for more info!! 👇
Port Gibbon – one of our top low cost camps on the Eyre. We stayed for 2 weeks here and loved almost every minute (the wind was bad for 2 days that we could barely leave the caravan).
Port Neil – A quiet and friendly town with a beautiful foreshore area. The grass was immaculate, the jetty well maintained, public toilets, tables and a BBQ area in a historic shed, alongside a playground was a perfect place to spend many afternoons. The Pioneer lookout gave a lovely view over the town beach and the ship wreck history in the area made for interesting learning.
Watch here for more info!! 👇
Tumby Bay – a colourful bustling town with so much to offer including leafy sea dragons at the jetty, delicious goods at the bakery and of course the Colour Tumby Bay Street Art. We stayed at the low-cost RV stop for 1 night and then moved to Red Cliff Beach free camp just down the road 15mins. We stayed at redcliff for 6 nights and enjoyed beach walks, snorkelling and epic sunsets.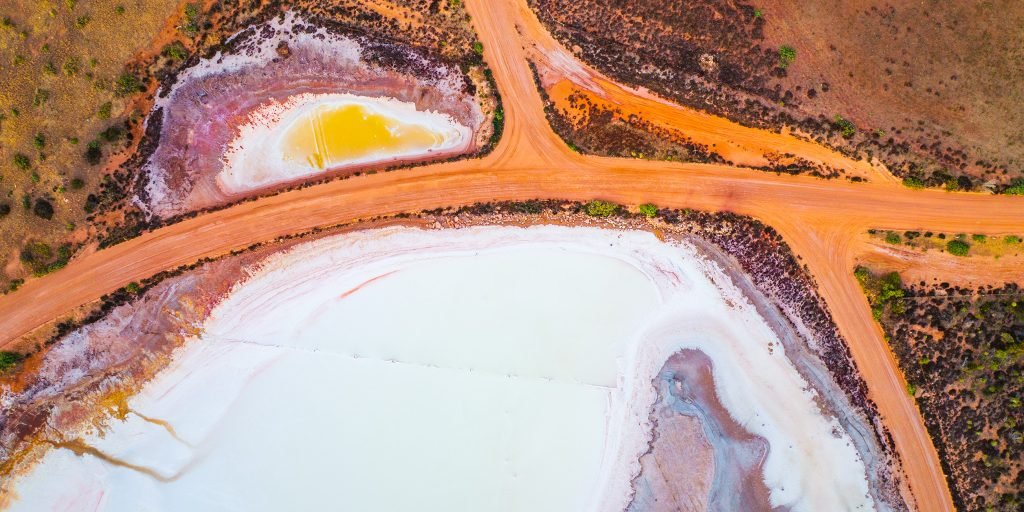 Watch here for more info!! 👇
Lower Eyre Peninsula
Port Lincoln – the 'capital' of the Eyre, with the main export hub and almost all of the shopping stores you need here. It was a good time to restock, have a little retail fix and then head out of town for some National Park exploring. We enjoyed our stay at the Port Lincoln Caravan Park which has a really interesting layout, that means a lot of the sites actually have water views and are almost flat. We visited Lincoln Estate Wines which has an animal farm too which is fab for kids.
Lincoln National Park – a highlight of our Eyre Peninsula exploring. We camped at Engine Point Camp which would be our 2nd favourite camp on the Eyre. The water was warm, shallow and calm. The camp was just back 10m from the beach and protected from southerly winds. There was reception and it was quiet, what more could you want! This is a booked site online and there is a nightly rate plus a park entry fee. We explored some of the Lincoln National Park from here and there are lots of different areas to check out.
Watch here for more info!! 👇
Whalers Way – this is private property which requires a $40 entry fee. We weren't overly impressed with the area but did enjoy climbing down the dodgy ladder to the 'Swimming Hole' for a swim in a beautiful rockpool. We much preferred Fishery Bay, which is just out of Whalers Way for a swim in the crystal clear blue water and a play on the amazing white sand.
Coffin National Park – a lot to offer in a small park. There is a 4WD track which takes you from Yangie Bay Campground to the Western point of the Park and to beaches on both the North and South sides. We loved Seven Mile Beach and Sensation Beach, you just have to decide which one is better dependant on the wind direction. It was a fun and not too strenuous 4WD track, with only 1 or 2 challenges, which our truck and the others we were with handled well. The other 4WD challenge areas is on the East of the park, back towards the entrance, Gunyah Beach. This is where we actually had to drive the extremely soft beach to help rescue to 300 series Landcruiser's that were bogged to the axels. You have to do some dune driving before even reaching the beach, and if you decide to drive the beach, do so at your own risk, tyres right down and stay away from the water, it gets worse the closer you go. Our ultimate spot in Coffin Bay National Park was Almonta Bach and Golden Island Lookout – it was just spectacular. Daniel's photos are all that you need to see what I mean.
Watch here for more info!! 👇
Coffin Bay – small little Oyster town. We spent a couple of nights here to do washing and wait for our NP booking dates. We cycled along the oyster walk which was lovely and wandered to the Jetty for sunset. We aren't seafood eaters so there wasn't much else for us in Coffin Bay, but we hear the Oyster Tours are fab.
Coles Point and Greenly Beach – definitely another camp high on our list. A free camp right at the beach. We saw the most amazing pod of dolphins playing here each morning and having the camp all to ourselves was just magic. The Greenly Beach Rockpools were a great little adventure 10minutes down the road, calm and so many seastars to ponder.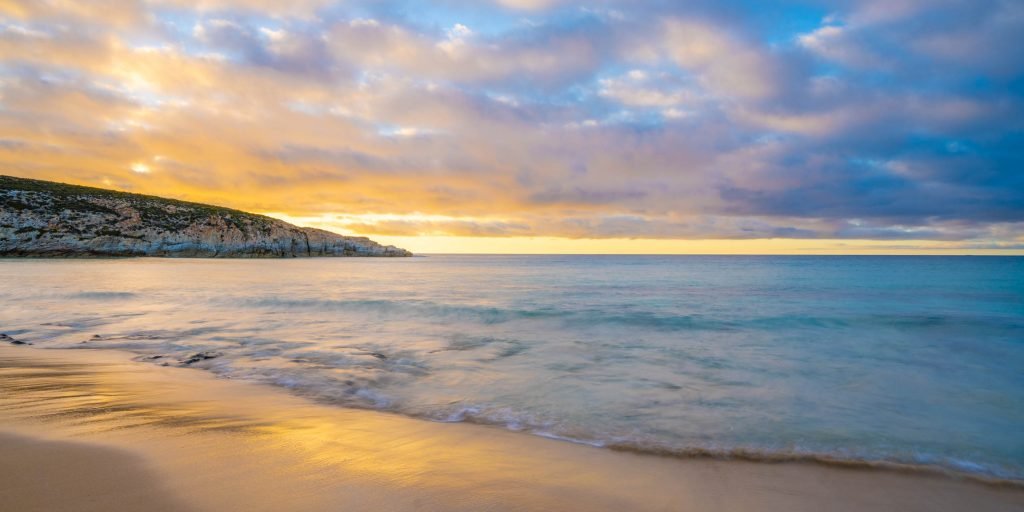 Watch here for more info!! 👇
West Coast Eyre Peninsula
Elliston – this is the first glimpse of the Great Australia Bight cliff line we had been waiting for. We took a random dirt road that looked like it would lead us to the coast on Google Maps and came out at the most spectacular cliff drive. The shear scale of the cliffs is mind blowing. There a number of stops in the area including the Tahlia Caves, Rockpools, Lock Wells, and The Sculpture Drive.
Venus Bay – a quiet fishing town with the basics of supplies. We stayed just one night here in the caravan park to catch up with a friend and it was a lovely afternoon by the water. The fishing and squiding is apparently really good here too!
Baird Bay – a teeny tiny town but has the cutest locals – the local Sea Lion colony. Here is where you can take a small and intimate tour to swim with the puppies of the sea plus the ever curious dolphins in the area, and this is something that we will remember forever. Even Aria at 4years old had the best time. It was about 3 hours for the tour, with 2 swimming opportunities for both the sea lions and the dolphins. There is a small and popular RV overnight camp here in town but we did the day trip as we weren't sure if our set-up would fit in the camp area from the reviews we read. At the time of the tour it was $200per adult swimming and $100per child, under 5 free.
Watch here for more info!! 👇
Streaky Bay – a nice little town with everything you need to top up. We spoilt ourselves with breakfast out at Drift Cafe and it was a 9/10 for everything! Highly recommend treating yourself here. We enjoyed a walk on the jetty to work of the delicious breakfast. There is also a large shark replica in the Shell Servo for the kids! Plus the Bakery is fab!
Perlubie Beach – the BEST low cost beach camp on the Eyre. We spent 15 days camped here in total as we didn't want to leave and we were waiting for the WA Border to open. New rules means it is now $20/night booked online, 5 night max, with allocated and limited sites, it has some soft sand, dog friendly with rubbish bins and a toilet at the entrance. This is a must do camp for anyone on the Eyre in our opinion! it books out in advance so this unfortunately is one you need to be organised for. (Note, both times we have camped here was before the new rules).

Watch here for more info!! 👇
Ceduna – we stayed at the Foreshore Caravan Park and enjoyed a waterfront site while we had the truck serviced ready to cross the Nullarbor. There isn't much to Ceduna but a good stop to clean the van after Perlubie, get the washing done and get a few supplies.
Watch here for more info!! 👇
Fowlers Bay – Technically not too sure if this is part of the Nullarbor stretch or the Eyre as Ceduna is kind of the end point. Anywho it is worth a mention. A tiny coastal town, with Australia's only completely off-grid caravan park. The town is being swallowed by the sand dunes too which is a sight to see! We stopped at Penong to the Windmill Museum and Australia's Largest Windmill, and also Lake MacDonnell, which is occasionally pink and blue if you're lucky. There is a lovely National Park drive just out of Fowlers Bay too.
We didn't venture too far into the Gawler Ranges & Central Eyre Peninsula area this time, however we know of some highlights we will visit next time we are crossing. These are Kimba for the Big Gallah and Pildappa Rock. If you know of others, let us know!!
Facts and Figures of Interest:
No. Of nights: 71
Camps:-
~Free/donation/RV stops/low cost: 44 nights
~Van parks: 18 nights
~National Parks: 9 nights
Average cost per night for camping: $7.20
*TOP 5 free/donation camps:
1. Perlubie Beach
2. Port Gibbon
3. Coles Point
4. Redcliff
5. Point Lowly
*Fave Van Park: Port Lincoln Caravan Park
*Best experience: Swimming with sea lions
*Favourite beach: Perlubie Beach or Engine Point
*Other highlights: Coffin Bay National Park, Fishery Bay, Elliston Cliffs, watching dolphins play at Coles Point, Tumby Bay Hot Chips
Other helpful info:
Dump Points and Water fill up points are common. You do have to pay for water at Streaky Bay. Groceries are limited to IGAs except Whyalla and Port Lincoln. Rubbish disposal readily available and the National Parks and Perlubie book out early. A lot of 'free' / 'donation' camps have also turned to bookings online and marked bays so make sure you check those out.