After now completing the Gibb River Road for the 2nd time we think we are qualified to give you a Caravanning Guide. We have travelled one-way in both directions, 9 years apart, this guide will be a recommended one-way adventure from Broome to Kununurra.
We will also include some of statistics and common damage we had or heard about, but the condition of the road is always changing so this damage can vary.
I'm going to attempt to score each attraction on the Gibb out of 10 so if you are looking for the best spots (according to us) it might make it a bit easier! I'll take into consideration – access for vehicle, – length of walking track, – walking track difficulty, – beauty, – swimmability (new word I made up), – uniqueness / scenery.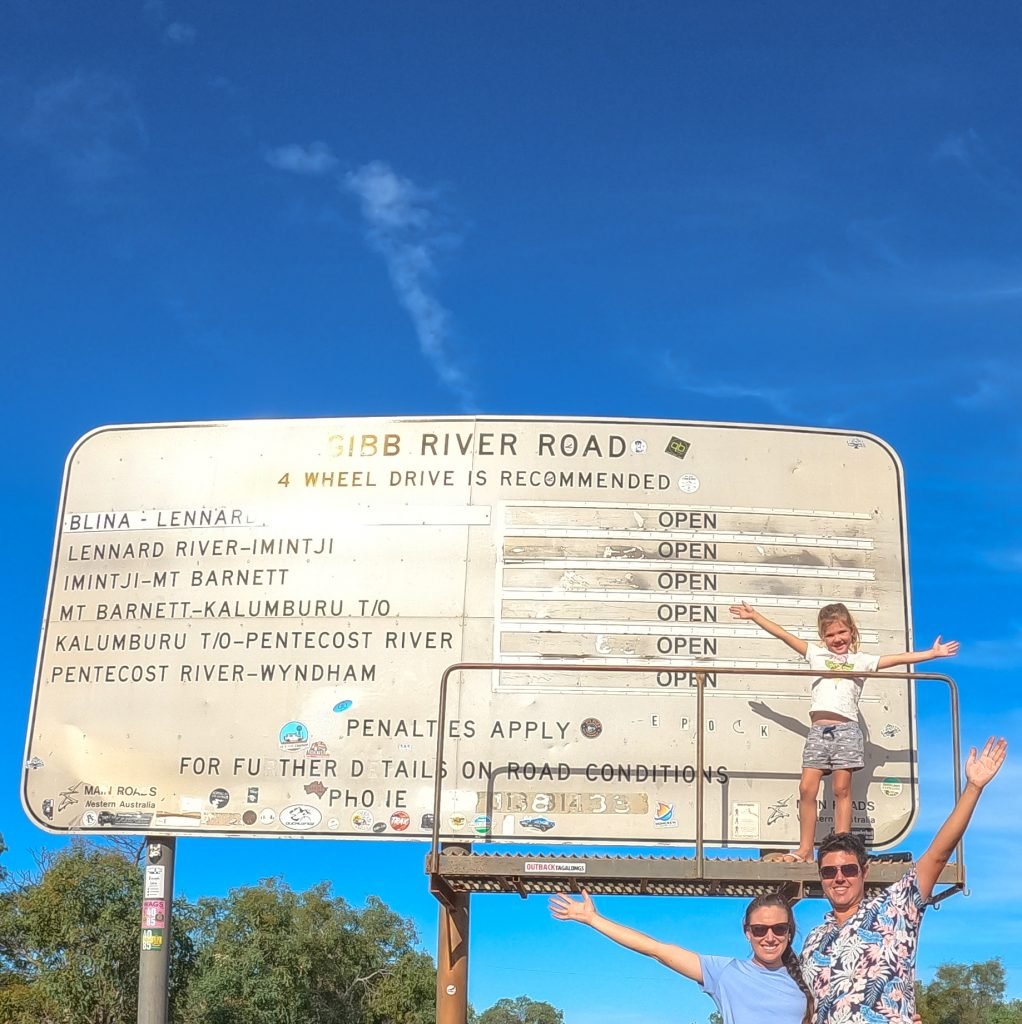 Day 1 – Broome to Windjana Gorge, via Derby
Do?
Derby is approximately 2 hours from Broome, along paved roads. Watch out for some of the one lane bridges though, have your UHF Radio on on channel 40 ready! You'll turn off the Derby Rd onto the Gibb River road, just before the turn off is the Prison Boab Tree which has some interesting history. An obligatory photo must be taken at the big GRR sign at the start! The road to Windjana Gorge from here is almost completely paved, just drop your tyres at the turn down towards Windjana/Tunnel creek as it's the end of the Bitumen for a while. . Don't plan much today, by the time you finish chores, get out here and setup camp you will be pooped.
Sleep?
Windjana Gorge Camp – A National Park run camp that is the best camping location for Windjana Gorge and Tunnel Creek. There are flushing toilets and hot water showers here. Fire pits and non-treated water they suggest you boil before drinking/using. We parked up in the sun for solar but there are lots of trees for shade with the views of the cliff walls out our window. You can choose between two camping zones – quiet camping or generator zone, book online or when you get there with cash, $14pp/night, $7p child/night. P.S – There is internet available here, Optus network only. It's a small satellite Micro-Cell but it works well.
Day 2 – Windjana Gorge and Tunnel Creek
Do?
Tunnel Creek – How often do you walk a tunnel, with a creek inside, with fresh water crocs? Twice in your life?
One of our faves we had to come back to and it's still just as wonderful as last time. You need to walk through a few pools of water, where you keep an eye out for crocs, a blue yabbie creature and small fish. When you get through to the end if you go to the left you will see some Indigenous Rock Art. Don't forget your head torch! This one is 10/10 – it is so unique, reasonably easy to access by vehicle, walk not too hard once you get in past the first boulders and well you have to walk in the water so swimmable kind-of. Epic is one word to describe Tunnel Creek.
Windjana Gorge – The cliffs that form this gorge are spectacular. And the gorge itself just as spectacular! Walking along the walls, along the beach with freshies having a bask in the sun or floating in the water and looking up at the scale of the walls is just something else. Keep an eye out for rock wallabies and lots of bird life here too. There are a few walks of various lengths you can do here too if you have the time and energy. 9/10 – only because you can't swim
Sleep?
Windjana Gorge Camp – A second night here gives you the opportunity to de-stress once you've started the trip.
Day 3 – Bell Gorge, with a day stop at Lennard Gorge
Do?
Lennard Gorge –
It's 8km off the Gibb River Road, and about a 30min walk from the carpark. The track can get overgrown with long grasses, but is easy enough to follow.
From the viewing platform you lookout into a narrow chasm where three streams of waterfall fall into the pool below.
There's no swimming but the view is incredible. This on was closed when we visited this year, however we did stop in 9 years ago.
Bell Gorge – Another favourite of ours and again it did not disappoint. It's a 10km drive from the closest camp (Silent Grove) then a 1.2km walk. It's not a hard walk, a few rock hopping bits but not boulders. You can choose to stay at the top of the falls swimming area or take a further hike across, over and down to the bottom pools under the falls. This is a little too far for Daniel and Aria to walk (injuries and age
) so we just hung at the top section, which is just beautiful. We went mid arvo and hung around after swimming for sunset photos too. 9/10 – only because you can't camp right there and have to unhitch to drive in lol.
Sleep?
Silent Grove NP Camp – The closest camp to Bell Gorge, another NP camp with flushing toilets, hot showers and Optus reception.
Again generator and non-generator areas, booked online or when you get there. Fires in fire pits allowed and obviously no pets.
Watch more about this part of the Gibb here:
Day 4 – Adcock Gorge
Do?
Adcock Gorge – Our first visit here and we loved it. A 5km drive off the main road (not, I repeat NOT caravan suitable – so leave that at the cleared area across the road from the turn off on the main road – it is also where we camped for the night). After a bit you come to a parking area before a small creek crossing where you can park and walk the remaining or you can take your vehicle across and drive the last of the track. We took the truck across no problems but there are some large rocks to drive over. It is then a 1km-ish walk (from where we parked) and it's a tricky one with quite a bit of boulder hopping. You do come out at the end of the gorge to a spectacular view of walls and even get to swim with another freshie. The water was fairly chilly though, took a bit for me to get in and I didn't last long
You can see Daniel enjoyed floating around! Another traveller decided they wanted a closer look at the Freshie on the rock, however when they went closer it got scared and jumped into the water, hence why we were swimming with a freshie
We rate this an 8/10! – just because you have to unhitch the van and you can't camp right at it, plus the boulder hopping makes it a little tricky for some.
Day 5 – Galvan's Gorge and Manning Gorge, camping at Hann River
Do?
Galvans Gorge – Our favourite gorge on this West half of the Gibb! 10/10 It's so green, a reasonable walk in, easy swim access, a rope swing, rock jumping and just all round awesome. Parking is right on the side of the road where the walking track starts. You should be able to get a park with your van hitched too as there's a few different spots and we parked with about 5 others hitched and still fit
We did this one as a day stop along the way between camps – camped at the Adcock Gorge Free Camp and will stop at Manning Gorge/Mt Barnett next.
Manning Gorge – A long hot walk to and from the gorge, but at least you get a swim at the start, middle and end. It is definitely an epic gorge and if you get the waterfall flowing at a reasonable amount the falls are special too. I did this walk on my own as it is just too far, too rough and too hot for Daniel and Aria. Is is 2.5km each way and I did it in 50mins each way. I was walking at a reasonable pace as Daniel was coming back to pick me up in 2hours and I wanted to have enough time for a reasonable swim once I got there. You can either ride the boat or swim across the river at the start, I chose to swim in swimmers and a shirt so I was cool for the walk. And chose the same on return to cool off after. You can swim and hang at the little beach area on the river here too which is lovely. This one is a 7/10 due to the long, difficult walk and no guarantee of a special falls flow once you get there. Sorry there aren't many pics, I only took the gopro with me (which doesn't take very good pics) and was on my own so was tricky to selfie myself nicely
You can camp here at Manning Gorge/Mt Barnett but it is $25/pp/night for unpowered (Including the $10 day pass fee to access the gorge) so we chose to head down the road a little further to a free camp. There are toilets etc here for the price but no reception. Daniel and I camped here 9 years ago and didn't feel the need to stay this time.
Hann River Free Camp – Just on the East side of Hann River Crossing on the Gibb River Road, you can take a right hand turn (coming from Broome side) and follow a track down to the river. There are a few camp spots right near this lovely little clear flowing creek/river. Smaller setups like camper trailers, RTTS etc can park up right next to the river, but anything bigger needs to camp up a bit as the trees are wat too low and there's no turning around room. We chilled here with our chairs in the river, Aria played and simply enjoyed the arvo. We watched an epic full moon rise and just as stunning Kimberley sunset through the gum trees.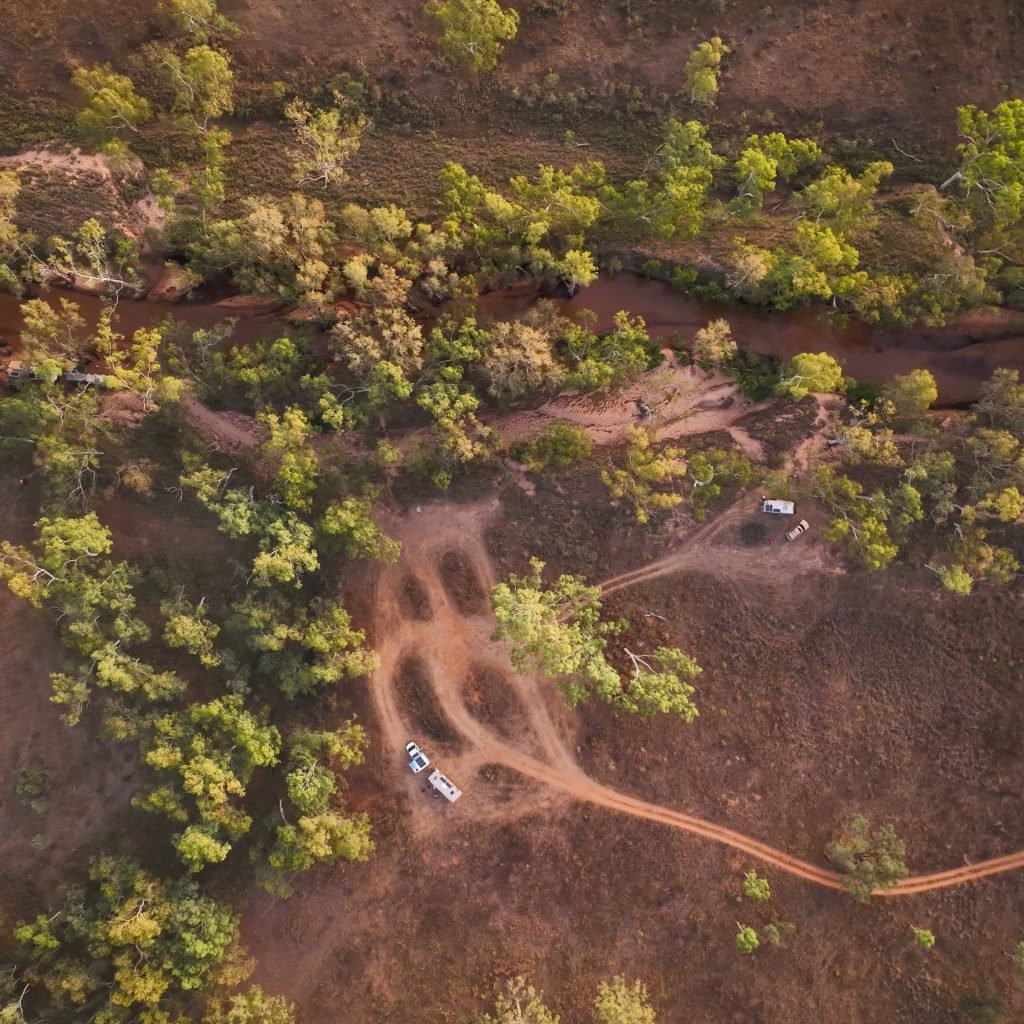 Watch more about this section of the Gibb River Road here:
Day 6 – Drysdale Station
Do?
Drysdale Station, Kalumburu Road – OMG the road!! It was the worst on the Gibb so far and was as bad as Cape York last year but you come to a super friendly station camp, with amenities including washing machines, some powered sites and the rest unpowered, a restaurant and bar, fuel and a few groceries if you need and water available too. $18/adult/night, kids under 5 free. You can organise scenic flights/tours of Mitchell Falls from here, if you don't want to drive up!
Day 7 – Mitchell Falls
Do?
Mitchell Falls – absolute dream come true! These falls are just spectacular! I couldn't get enough of filming them.
Arias first helicopter ride! We took the 6minute flight into and over Mitchell falls for $170pp. It was spectacular. The extremely rough road in was all of a sudden not even a bother once up seeing the falls from the air. This experience has been on our bucket list since 2013 when we last did the Gibb but didn't have the best setup to make it up here. The road is still rough as! You do a couple of loops in figure 8s over both Mitchell Falls and Big Merten Falls, before landing above Mitchell Falls. It's from here you're on your own to walk your way back to camp. 10/10 – 100% no question!!
Big Mertens – falls Spectacular from the air and on the 5km walk back to camp you walk across the top of them. If you're careful you can walk around to the side to catch a glimpse of them too, but it's a big drop so be careful. You could even stop for a swim here too a little back in the river.
Little Mertens Falls – After a fairly long stint of walking you come across a V in the path – down to the falls pool (for a swim) or up along the top of the falls. We chose down to the bottom and so glad we did, it is stunning. We also found another little track that takes you along behind the waterfall too which is just as stunning. We stayed here until just after sunset for photography. Back to the main path and head along and you will do some rock scrambling and come out on top of the falls. It was a little too dark to capture anything here to show you, but man that would be a beautiful view. You could also swim at the top of these falls too we think.
Sleep?
Mitchell Falls Camp – We loved our truck overnighter here and we all forgot how fun and comfy camping in the truck is. A basic bush camp but with hybrid eco toilets and a water collection point for boiling, and fire pits what more do you need? $11/adult, $7/concession and kids 6 & up $3 /night. Overall Mitchell Falls experience 10/10! You also need your Permit to visit Mitchell Falls which is $45pp, kids 5 and under free, which you can buy at Drysdale Station. We absolutely do not recommend bringing your caravan here, the road is not maintained and is really not suitable for anything bigger than a camper trailer – maybe an expander type van would be ok, but it is a very very very rough drive.
You can camp at King Edward River which is 2hrs north of Drysdale and do a day trip to Mitchell falls, it would be a big day as it is another 2.5hours drive from that camp to Mitchell Falls (add on your 3hours at the falls and you've got yourself a long day – but do-able). (Also a paid NP Camp which I'll put more details up in the section).
Day 8 –
Do?
King Edward River (Munurru) – We stopped in here to have a look on the way back out of Mitchell Falls. We enjoyed a short 500m walk to the falls and a swim in the river. It was a great lunch stop after a bouncy 2.5hr drive out from Mitchell Falls camp.6/10 – This one is just a stop if you're coming this way, don't go out of your way for it!
Sleep?
I would stay at King Edward River a second night if you are set up and have done the day trip to Mitchell Falls, if not back to Drysdale Station to your van!
See more of the spectacular Mitchell Falls area here:
Day 9 – Ellenbrae Station
Do?
Ellenbrae Station – We had to stop for scones, it's what you do! And what 17,780 people did last year.
And which only started as a thing of Ellenbrae in 2005. We loved that we could fit an overnighter in at Ellenbrae Station. We dropped the van off, went for a quick swim in the river and then had a fire with some fellow travellers. Breakfast was scones and jam and they were the best scones I've ever had! The grassed area, with tables and chairs, play area and atmosphere is a pleasant surprise on the Gibb. I also enjoyed the rustic showers here, it's not often I venture from the van for a shower
This station is also completely eco-friendly with all power generated from solar panels and stored in lithium batteries, with a backup generator only if required.
Sleep?
Ellenbrae Station – It was $35/night for an unpowered camp site. There are two camps here, one closer to the river than the other. If you can request that one then I would as the other one is where we stayed and it was a little dusty and didn't have too much going for it, other than much quieter. There are amenities and rubbish collection at both camps, and there is a water fill up point at the homestead.
Day 10 – Pentacost River Camp
Do & Sleep?
On the way, stop in at the Cockburn Ranges lookout. We broke down just before here so couldn't stop this time as once back on the road we needed to make our way as quick as possible to Kununurra. Which also means we didn't get to stay the night on the Pentacost River, which is a HUGE bummer. It is a fab free camp along the Eastern side of the river, but don't be tempted to swim as the river is full of salt water crocodiles. This camp has no facilities and is a great stopping point with awesome views.
Watch more about our breakdown and crossing the Pentacost here:
Day 11 – 14 – El Questro Station
Do?
There are plenty of things to do at El Questro – the bar and nightly entertainment, or takeaway style lunch is a great start. There are lots of pre-booked tours such as Gorge Boat Tours and Horse Riding however on this trip we stuck to the self guided natural attractiongs.
Zebedee Springs is a 10/10 – An oasis in the Kimberly – like most of El Questro. But this was even better than we remember from 9 years ago. Short easy walk, perfect temperature water and just pure magic!
Branco's Lookout – 10/10 – Omg, what a difference in this place. 9 years ago after a huge wet there were no trees or grasses, shrubs etc, this year, full of green and pure beauty!The river crossing was tighter this time too with the trees and shrubs growing right along. 9 years ago you could see all the way both left and right down the river as you crossed. To get to this lookout you need a high clearance 4WD and experience in off-road driving. But it is so worth it. We enjoyed a cheese platter, just like we did 9 years ago
El Questro Gorge – 8/10 – The hardest thing I have ever done (not including child birth
). After crossing the very deep water crossing in the truck (approx 80cm) while giving a couple of other travellers a ride, we walked to the middle pool and enjoyed the stunning gorge walk. The palms, the ferns and the greenery amongst the red cliffs walls is just something else!! Daniel and Aria hung around the middle pool while I took the challenge to go all the way to the end. It was the most challenging hike ever and I feel a huge level of accomplishment achieving it. I was close to turning back 3 times but continued to motivate myself. I do thank Daniel heaps for allowing me the time to continue on and achieve this.
Emma Gorge
9/10 – This one is back on the main road out of El Questro Station however still managed by El Questor and the Wilderness Pass applies. Emma Gorge was better than we remember, the water just as cold as we remember, and the walk was much harder than we remember
An absolute stunner of a place, and one not to be missed!! The water falling looks like glitter and it gives Emma Gorge it's magic, that plus the green ferns on the gigantic red gorge walls! I'm just going to let the photos speak for themselves, but yes we found the warm bit in the rocks to the right
Aria hung there for a long time! (9/10 – only because of the tricky boulder hopping might be a bit much for some people but it is a must do if you have the ability!)
There is also Pigeon Hole Lookout, Chamberlain Gorge, Champagne Springs, Amalia Gorge and Moonshine Circuit too so as you can see there is plenty to keep you busy for a few days if you're up for it!
Stay?
El Questro main campground is our pick, but your circumstances may vary! It is the only place we booked in advance for the Gibb as it is extremely popular! It is also now owned by G'day parks and a bustling station stay. We paid $25/adult/night for unpowered which included the wilderness park pass. There is decent Telstra reception at El Questro, from the main campground house. Unpowered sites are mainly out along the access road to the back of El Questro – Be aware it can get dusty in these unpowered sites as people don't stick to the 15km/h speed limit when they are running late for Sunset at one of the lookouts. They graded in speed humps while we were there, but be aware this may be an issue for drying washing etc. There are also unpowered sites towards the river past the powered ones, but they are quite shaded so if you rely on solar they may not work for you. Toilets/Showers are pretty good here. The powered section is quite shady, which is nice, while the unpowered trackside strip is sunny, which was excellent for our solar power. There is also the option of private riverside camps, which we stayed at the last time we were here, but they aren't suitable for Caravans, and there is minimal if any internet down there. They are however private and would be excellent for a few Roof top vehicles or camper trailers to set up at.
Watch more of these adventures here:
More to Explore in the Kimberley Region
If you are only going one way along the Gibb River Road, head down to Purnululu National Park (Bungle Bungles) however you can't take a caravan in so you'd be doing a tour, day trips or tent/swagging it if you're a caravanner. Additional to the Gibb 3 nights in Kununurra and 2 nights at Lake Argyle gives you a splendid Kimberley Region adventure.
Purnululu (Bungle Bungles)
I may as well add some info in here about that so it is all in one place for you. We suggest a minimum 2 night stay in the park which is booked online prior. We left our van in the storage section of the Bungle Bungles Caravan Park 1Km in on the Bungles Road from the highway. It was $20/24hr period. We arrived mid morning, organised ourselves to do a truck camp out, lowered tyre pressures and hit the dirt road in. 54km of rough tight bends and water crossings – about 1.5-2hrs.
Stop and grab a park map from the visitor centre and we suggest heading to the northern area of the park. We stopped for lunch at Echidna chasm which is spectacular. If you arrive early enough in the day and have the capacity to do so, put the Palms Walk on your to do list next.
We then suggest heading to the Kurrajong Camp and picking your spot and setting up your swag, tent etc. Then head to the Kungkalanayi lookout for sunset. Here are spectacular 360deg views after just a short walk. Back to camp for the night.
Day 2 in Purnululu – we made our way to the Southern end of the park. We arrived the Domes Loop Walk and then continued on to Cathedral Gorge. This walk is a bit longer and more exposed so keep that in mind. We stopped at Elephant Rock lookout for a look on the way too. We finished up here at lunch and had lunch at the picnic area. There are 3 other longer walks here if you are up for it. We were not, it was way too hot and they were another couple of km each way.
We headed to Wulardi Camp and picked out spot for the night. This is a much smaller camp but has the same facilities – drop toilet and boilable water, shaded numbered spots with picnic tables dotted around. We hung the hammock and relaxed in the shade watching the corellas and red tail cockatoos for the arvo. We made our way back to the dome for sunset. Watching the colours change on the domes is truly something else. You don't have to walk too far from the car park to see it either. Back to camp for a well earned rest.
Back to camp for the night and make our way back out of the National Park in the morning, ready to hit the road again.
Kununurra
A couple of nights in Kununurra is nice. The surrounds such as the Lake, the Mirima National Park and Kelly's Knob Lookout gives you a nice place to stop, rest and restock. It is a small Kimberley town but you can get most of what you need here. There are also day trips to the famous Ivanhoe Crossing, Molly Springs, The Grotto and Secret Springs for those of you looking for something a little adventurous.
Lake Argyle
We think 2 nights here is enough. Arriving around lunch time gives you time to set up, have a swim in the infinity pool, then head to the 4wd lookout for sunset. Followed by a cruisy morning having a drive over the dam wall, to the lookout points etc, a lunch time swim in the infinity pool if your game and then the sunset cruise on the lake. This is a pretty good summary of Lake Argyle! If you have a spare night, then sure stay another and do a couple of the walks, a helicopter flight or another tour, why not we say!
YouTube Episodes of Kununura, Purnulunu and Lake Argyle to come shortly – head over to subscribe so you don't miss them!
Important Facts From the Gibb River Road!
Damage:
TRUCK
* Radiator T-Piece
* Headlight brackets broken
* Water in headlights
* Engine safe sensor
CARAVAN
* oven glass door
* Hot water system cracked
* Break controller wiring
* Fusion lock baskets snapped
* Oven screws
* Fridge screws
* Oven cook top bracket snapped
* Microwave shroud cracked further
* Weird electric short on 12v
* Bathroom cupboard door latch jammed
* Base of kitchen drawer popped out
* Dust – everywhere
Other damage we saw on others – alternator belt torn, smashed back window of car, caravan fridge fell out, caravan water tank joiner busted, tyres blown, caravan shower door broken.
Logistics:
Fuel usage average: 27L/100
Fuel is available at Imintji Roadhouse (Derby), Mt Barnett Station, Drysdale Station and El Questro. Note Diesel is available at all 4, however petrol is not available at Imintji.
Water available at all stations and non-potable at NP camps
Internet available at most stations and NP camps (mostly Optus, but some Telstra).
NO dump points!
Basic grocery supplies are available at the roadhouses and stations, usually those with fuel.
Top 5 attractions: Mitchell Falls, Galvan's Gorge, Emma Gorge, Zebedee Springs, Tunnel Creek, (El Questro Gorge comes in 6th).
Favourite camp: Windjana Gorge
Other:
~Would we do the Gibb again – Yes
~Would we take the caravan again – not unless we had to.
~How do we compare the Gibb to Cape York – not quite as rough on the road but we were earlier in the season and road has a lot more rocky sections, a lot more places natural to swim, the Gibb had less traffic than when driving the PDR, a lot more hikes, just as awesome in terms of adventure, you also only need to go one way along the Gibb, not both like the PDR.
No. Of nights: 14 nights
KMs travelled: 1788
Station stays: 7
NP camps: 4
Free camps: 3
The road is shorter than you expect for such reputation and amount of attractions. You can do short drive days between stops which makes it enjoyable.
Memories made: countless