Sturdy, Well Built, decently priced and very, very functional.
We have had our Darche 450 Firepit for almost 12 months now, and it gets used almost every night. The few nights we aren't using it, are because we are in a caravan park that frowns on fires.
We use it for entertainment, bonding, making new friends and most importatly, cooking! Around this firepit we have made new friends, met new people, warmed ourselves and cooked both dinners and deserts.
The Details
Weighing in at around 11kg, this firepit is among the lighter ones you can get, while still being sturdy and capable of a big flame. It folds and packs flat which is really, really convenient and it's made of stainless steel, so after a year of use, it still looks bloody great.
The flat, heavy bottom sits on the ground and protects it, while the main part of the firepit folds out and clips into the base in about 3 seconds flat. On top of this goes an adjustable height grill holder, and then the stainless grill onto that. All up it's 4 pieces and is super versatile. If you want an intense heat for your dinner, or you only have a low fire to cook on, the bottom adjuster is perfect, or if you want a really low heat to cook, or your fire is raging, maybe the top adjuster for the grill will suit.
Our only negative
After a year of use, my only criticism would be that the bag is looking a bit worse for wear, with the buckles that hold everything closed and together starting to rip, however this is really minor and I definitely do not treat my gear with kid gloves. This gets thrown around, into the back of the truck and onto the ground.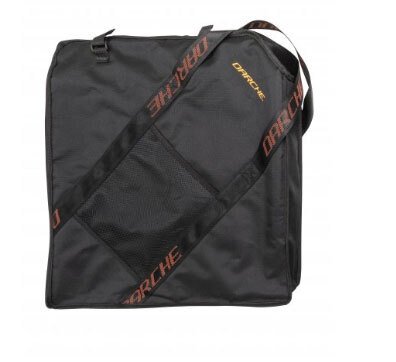 The ability to have a fire practically anywhere, safely and without damaging the ground underneath has meant that we have been able to have fires in plenty of places that you normally couldn't, from Caravan Parks, to Hipcamps and National Parks.
People are much happier to let you have a fire when you can tell them that you have a contained firepit, it means that you won't damage their grass, you will clean it up when you go and you won't leave a hot firepit behind when you leave in the morning.
Have I mentioned that we cook on this firepit? Two of the best, best meals in my life have come off this grill, One was steaks cooked on red gum in Brisbane at the Samford Scout Camp, and one was Pork Spare Ribs cooked on the side of a lake near Proserpine. Damned if I can recreate it though!
Top Recipe:
Dessert
Take 2 apples, peel them and core them with a knife.
Make a mixture of sugar and cinnamon (or buy premade)
Coat the apple in the cinnamon sugar mix, including the middle
Place sultanas or raisins in the middle of the apple (where the core was)
Wrap in alfoil and place on grill after dinner is finished. Cook for approx 15 minutes.
Unwrap your delicious dessert.
You can check out some of our cooking in our YouTube Episodes HERE
Summary
Overall, this is a two thumbs up purchase from us, and we do not hesitate to recommend it to others. If you don't have any firepit. definitely get one if you are travelling Australia, or planning too. And if you are looking at which one to get, this one is great.
BUY YOURS HERE:
Tentworld – https://t.cfjump.com/69521/t/31959
Snowys – https://t.cfjump.com/69521/t/64164