Litchfield National Park is our favourite Northern Territory National Park. It is only a 50 minute drive from Darwin and many people do day trips, however we think to really experience all it has to offer you should definitely stay in the area for about 4 nights.
I will set out a bit of a 4 night itinerary for your visit to Litchfield. You can do all or some of these but this gives you an opportunity to see almost all of Litchfield and not be rushed off your feet. This guide is based from where we stayed which was a free camp just outside the park on the Northern road. (It has now been closed as is a day use area only 🙁 )
Day 1 –
Coming in from the Berry Springs/Darwin end of the Litchfield National Park road, arrive at camp, set up and have lunch. After lunch head to Cascades. One of the lesser known attractions in Litchfield but that's what makes it even better, less crowds. It's a relatively short walk (1.2km) with only a couple of rock hoppy bits, but when you arrive you come to a beautiful swimming area and falls. You can of course do a further walk however we have never done it as we are always very happy at this one.
Head back to camp to relax and watch the sunset by the campfire!
Day 2 –
Greenant Creek & Tjaetaba Falls
This is one we've not done before as it is relatively new. It was a lovely walk through Monsoon Forest and Savannah Forest and brings you to a lookout of the falls and then the top pools of the falls. It is requested you don't swim here so we didn't stay long.
Wangi Falls
This is one of the main 3 attractions everyone knows about at Litchfield. The double falls, with the viewing platform, huge picnic area and the hot spring up in the rocks. It is the busiest and most commercial of the attractions and it is relatively wheelchair friendly. There's also a tree tops walk through the Forrest and you can also continue on a loop walk that takes you over the stream above the falls. The tree growth stops your view from the treetop platform now which is a little disappointing. There's a camp area here if you're lucky enough to secure a booking and can wander to and from the falls. We did this in the past and loved it, except from the mozzies.
Day 3 –
Tolmer Falls
A huge single drop fall that flows all year round. You can see these falls from a lookout platform 400m long and wheelchair friendly. You can also take a loop walk after the lookout to walk along side the creek and look back through to the escarpment. There is also an awesome topographical map here in the info booth! This is another non swimming area and should be respected! The waterfall image is taken by Daniel Courtney Photography and it is taken almost at the top of the falls, where the water plunges through a hole and then continues to become the falls seen from the lookout.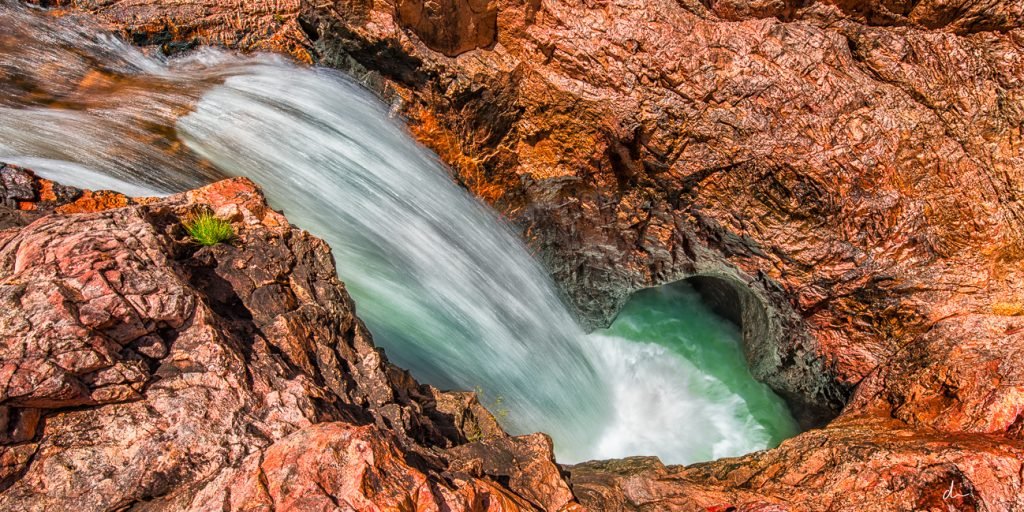 Blyth Homestead
Taking the Litchfield Daly Railroad 4WD Track, crossing one water crossing, then taking a left turn onto Blyth Homestead Road and crossing another creek you will arrive at Blyth Homestead. This history here is amazing and you can read all about it in the book inside the homestead. The main info was that the children (13 from memory) were sent to live in the homestead and mine a tin mine. They had to grow their own produce and one of the sons found a croc and it became his pet, even following him around like a dog.
Tjaynera Falls (Sandy Creek Falls)
Back out and onto the Litchfield Daly track and continue straight further along the dirt road to arrive at the camping and day use area of Sandy Creek Falls. Here is the beginning of a 1.7km hike, with a bit of rock hopping but brings you to the most spectacular single drop fall and an icy cold pool. This was the coldest pool I had swim in to date and Aria and I didn't last long at all. I found a nice rock to perch on for a while and enjoy the view. Daniel braved it long enough to make it the whole way across to the falls! You do need to cross the ~60cm deep water crossing back before Blyth Homestead to get here. The campground is suitable for smaller set-ups (no caravans) which is booked online, with amenities and fire pits.
Day 4
The Termite Mounds. The incredible natural formation of the termite mounds, be sure to stop in here on your way around the park. Have a read of the info board and check out the two types. Very interesting! Also remember not to touch, they are delicate and important parts of the ecosystems in the area.
Florence Falls
Our FAVOURITE falls of Litchfield NP. We spent many weekends here in the past, camped up in the campground nearby and it is still as beautiful as we remember! We suggest lunch in the picnic area here then take the stairs down, stop at the lookout platform on the way, then walk the creek loop walk back. It is a stunning walk back along the creek with small cascade falls along the way and we highly recommend doing this for three reasons:
1. You get the full experience
2. It is beautiful
3. You then don't have to walk back up the couple of hundred stairs.
Tip: If you walk across the creek before the main swimming steps you get a better view of both falls at the bottom!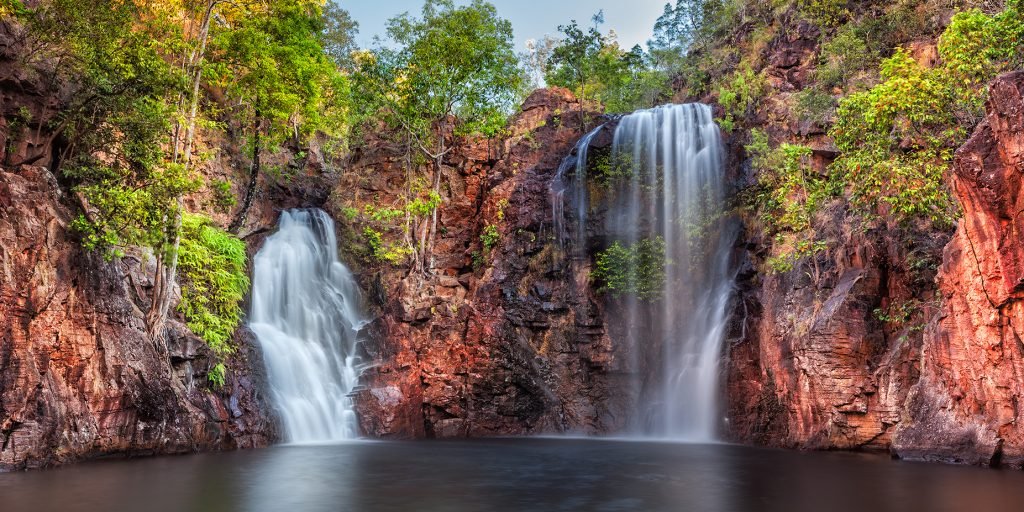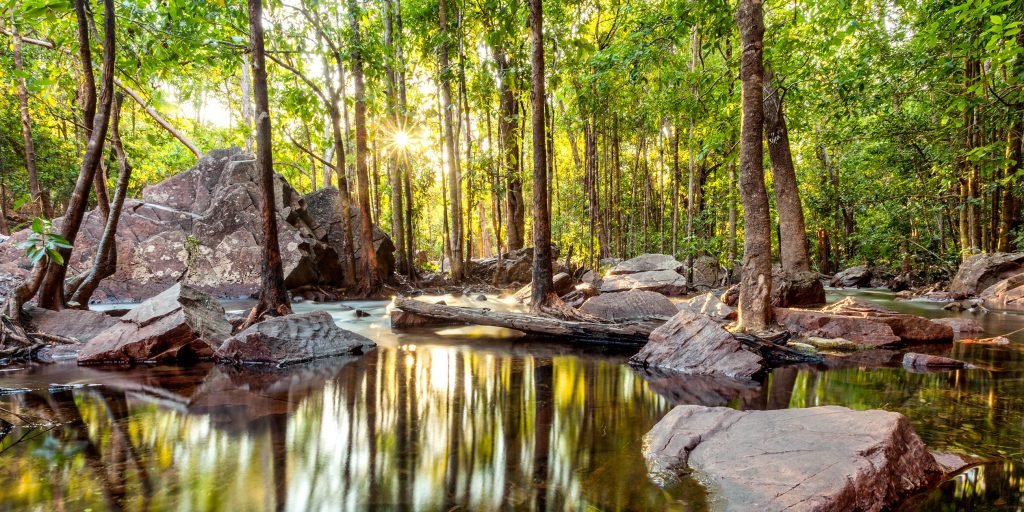 Buley Rockholes
I forgot how good sitting and hanging out in these rockpools were. Just a short 500m walk from the carpark brings you to many spots along the rockpools. Have a wander and pick a spot that suits you. We took a couple of cans of drink and just popped ourselves in the water slightly, basking in the sun, with a suitably deep pool for Aria to splash around in next to us and we just, relaxed. It was a little on the busy side but it usually is as it is amazing! There is a section that is popular for rock jumping for the bigger kids and the 'big' kids. What an awesome spot to finish!
A stop on the way to or from the park for an additional day is Berry Springs Nature Reserve. Here there is a picnic area and a beautiful swimming hole that is a warm thermal spring. You can only swim here in the dry season though as the crocodiles do make their way into the springs in the wet season. If you are in the are in the wet season, do make a stop to have a look at the water level, it is really something else!
We camped at the Darwin River Tavern to visit the Berry Springs area, an awesome pub style off-grid camp with amenities, FREE washing machines, a pool, water fill up, obviously food and drinks and extras like a fresh water croc to have a look at, bottle shop and convenience store. All for just $10/night!! Add this stop to your list and also add the Territory Wildlife Park for a day!
Another nice stop if you're staying at the Bachelor end of the park and have spare time is the Bachelor Butterfly Farm. There are many camps in Litchfield National Park that you can choose from, some are National Park camps that you book online, others are farm stays and caravan parks. Finally one last popular 4WD adventure to mention is the lost city. This is an interesting cultural and natural rock formation that if you have some spare time and don't mind a bit of a challenge pop on your list. Do remember this one is exposed to the elements and is quite hot when walking around having a look so pack plenty of water.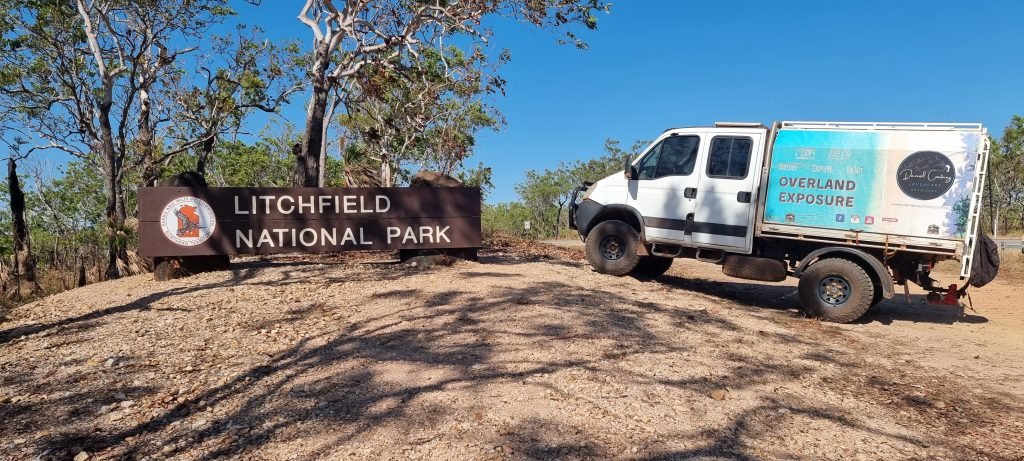 Ok that sums up Litchfield National Park. Obviously if you are staying at the Bachelor end of the park, at the Safari camp, any of the NP Camps or even moving between different camps the order that you do each of the days may change, however these are nicely grouped together for the areas and so that your not squeezing too much into each day and being rushed!
Feel free to leave us a comment and click a couple of ads on here that you see, it doesn't cost you anything, but we get paid to bring you this awesome comment! Finally if you're interested in purchasing a stunning piece of landscape photography art for your home, workplace, caravan or a gift, head to www.danielcourtney.com.au.