Welcome to our long-term review of the Iveco Daily 4×4 light truck.  We have owned this truck for almost 2 years now and have been using it  everyday on our travels around Australia towing a caravan.  So far we have travelled a lot of Queensland, including right up to the tip of Cape York, to the outback down through the NT to Alice Springs and down to the Eyre Peninsula in SA in that year and a bit on the road.
WATCH our walk around Video here!!
We purchased our truck with 135,000 km on the odometer and it now has 188,600 km. We think 53,000 km is enough to give a good opinion on the vehicle for our uses.
We have a love-hate relationship with this truck. It's both the best thing possible for the touring that we're doing and also annoyingly unreliable at times.
The truck is being worked pretty hard, It weighs about 5 ton fully loaded and is towing a caravan that weighs about 3.5 ton fully loaded. It's modified with 17-in rims. 37-in mud tires and a bunch of other modifications to make it better for touring and for off-road work.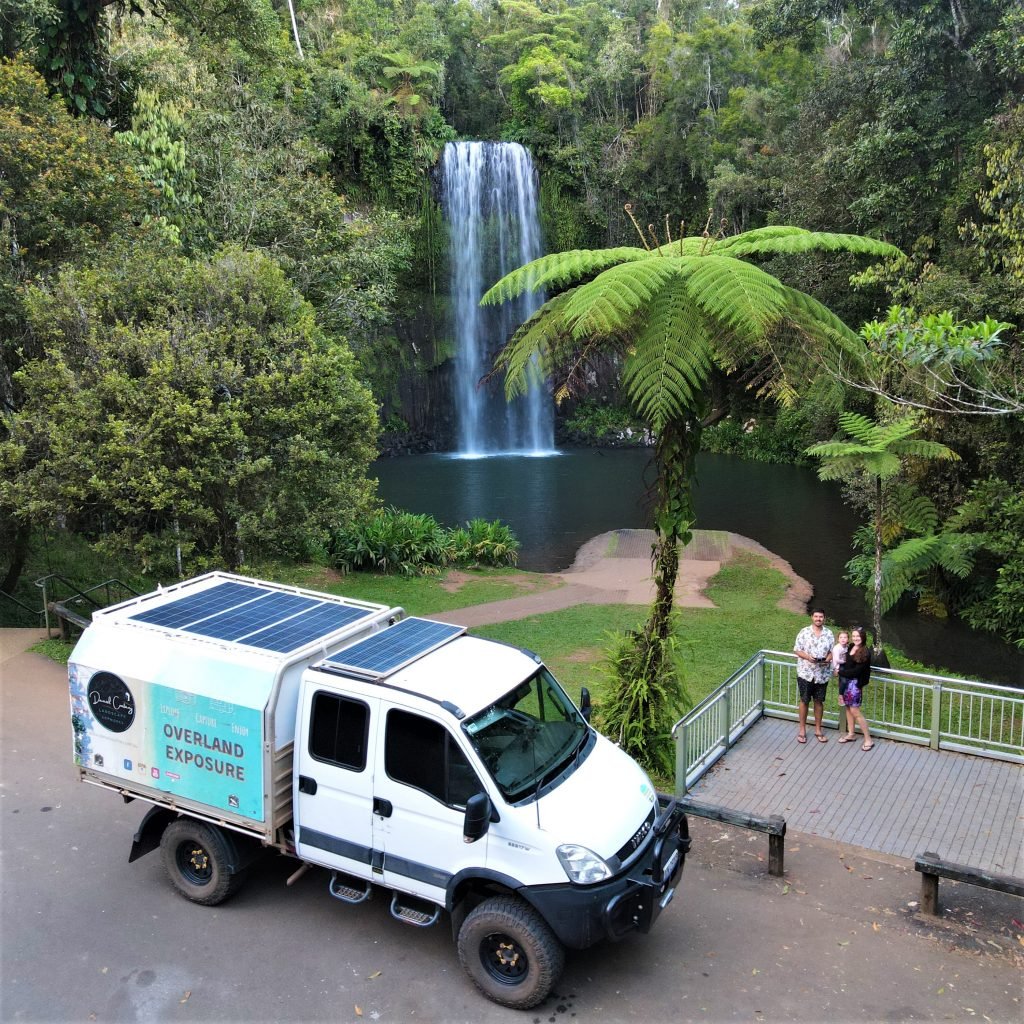 Some things that we absolutely love about this  truck:
–  it fits in a normal car park  space (just)
–  it has phenomenal road presence  and looks the goods whether it's sitting still or on the move.
–  it's not a fuel guzzler. It tends to do pretty well, even while towing into a headwind.
–  we have space for days and days and days and days.  We fit all of our stuff in it, including our electric motorbike push bike fridge freezer tools chainsaws a kitchenette, a porta potty and still have plenty of room for other things.
– it has a 250L secondary tank for diesel with a transfer system into the main tank which is 80L.
– we can take it away without our caravan and we have water and electricity along with a place to sleep under our roof on a queen bed and a single bed for a daughter along with lights and all the creature comforts.
– The roof space is massive and we fit 670 Watts of solar on the roof.
– it's really comfortable straight out of the factory with great suspension and suspension seats.  Along with that, the wheels are just in front of the driver and passenger and you aren't sitting on top of them like in the other Japanese light trucks.  This is a great thing for comfort and it's something that you don't have to spend any money on when you hit the road.
– it's extraordinarily capable off-road.  It has a split transfer case.  A very low range gear, It has permanent four-wheel drive and factory front and rear diff locks.  This means it can basically go anywhere and do anything as long as it fits.
– amazing views out of the front window. This is great for driving. Normally on the road as well as sightseeing as you can see over fences and roadside shrubbery. When you are four-wheel driving you have great vision down the  stubby bonnet.
– The online Facebook owners group is amazing and has a lot of fantastic people with a lot of experience on this vehicle. You can ask pretty much anything and someone will probably have the answer for you or know where to look for the answer.
– everyone thinks that you're a baller.
Things that we don't love but don't hate about it
–  climbing up into it. We thought might become a chore however, everyone's just used to it and it's completely normal for us now.
–  The height of The chassis and the back tray means that getting in and out of the canopy and using our kitchenette and fridge can be a little awkward as they are quite high.  There's no getting around this unless you figure out some sort of dropdown system for your kitchen which adds a lot of complexity, weight and price
– it's height can make it quite difficult to get down some tracks when you're out and about four wheel driving.
– parts have been quite available out of Sydney and have been able to be shipped to various mechanics that we've needed them at promptly. This has meant that we haven't faced many delays with repairs due to parts.  We've had some horror stories of American trucks and having to get parts shipped all the way from America and even Japanese brands facing the same thing.  However, it's not a land cruiser where a lot of mechanics will carry the known breaking parts such as starter motors and alternators for these models.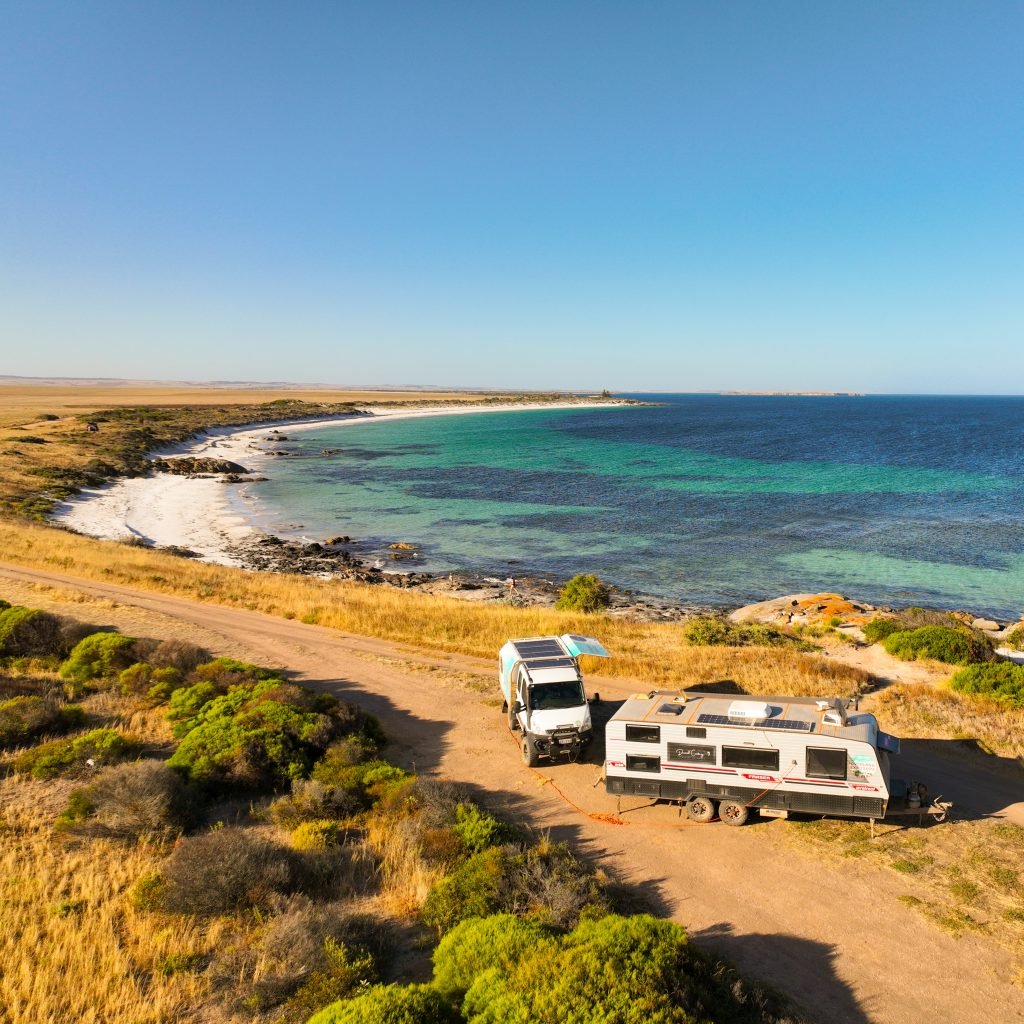 Things that we really are disappointed with:
–  Reliability.  The vehicle is getting on in age now. It's a 2012 model with 188,000 km on the clock and things are failing.  We've had lots of small issues and a few big issues to deal with on the road.  It feels like we can't go more than 2 months without having to spend some time and money in a mechanic somewhere.  This is despite us servicing it over and above what it's meant to be serviced to try and keep it reliable.  The things that have gone wrong can't really have been predicted. We have had everything from a complete failed engine with a scored piston and bore that needed replacing,  we recently fixed the third gear synchro in the manual gearbox as it had worn out completely. This was unheard of in the Iveco community so it hasn't happened to a lot of people before.  A lot of other small electrical issues have cropped up over time and we generally just try and fix them as they occur. Some other minor things like breaking door handles, doors not lining up and closing properly after corrugations and numerous other really small things have put a dent in our enjoyment of the trip.
– when you a four-wheel driving in it, you have a really high seating position and any side to side rocking movements or rocky gullies and things like that really feel a bit precarious because of how high you are and how much body roll there is in the truck.  It's perfectly capable of handling these sideways movements. They just feel really awkward from the driver and passenger seats.
–     Iveco Australia fought us all the way on our warranty claim for our failed engine right up to forced mediation at VCAT.  Generally other owners have had very similar experiences with Iveco as soon as the vehicle is out of their strict warranty periods.  Don't expect any grace warranty repairs from Iveco Australia.
Alright, that wraps up our love and hate relationship with the vehicle. At the end of the day a lot of people ask me. Would we buy the same vehicle again? And it's a really difficult question. Our answer to this question changes on a regular basis depending on how the truck's been performing and what duties we are requiring of it. As we said at the start there's no other vehicle like it on the market. You either go smaller with a dual cab ute or land cruiser or patrol and have weight issues and use a lot of fuel because of the size of the caravan you're towing behind. Or you go bigger with a Japanese light truck and have comfort issues. Have issues with the four-wheel drive, ability of them, not having diff locks etc. And most important of all, you will definitely not fit in a normal car park in one of these vehicles. We got a lot of street cred because of our truck. It's definitely a good advertising tool for our overland exposure and Daniel Courtney photography businesses.
If you're looking to purchase an Iveco daily 4×4, feel free to ask us questions here below and we can also recommend Travel Trucks in Brisbane. They are a fantastic business that deals only with Iveco Daily 4x4s. There's nothing that they don't know about these vehicles and nothing that they don't carry or haven't invented to solve a problem with the vehicle. Check them out here.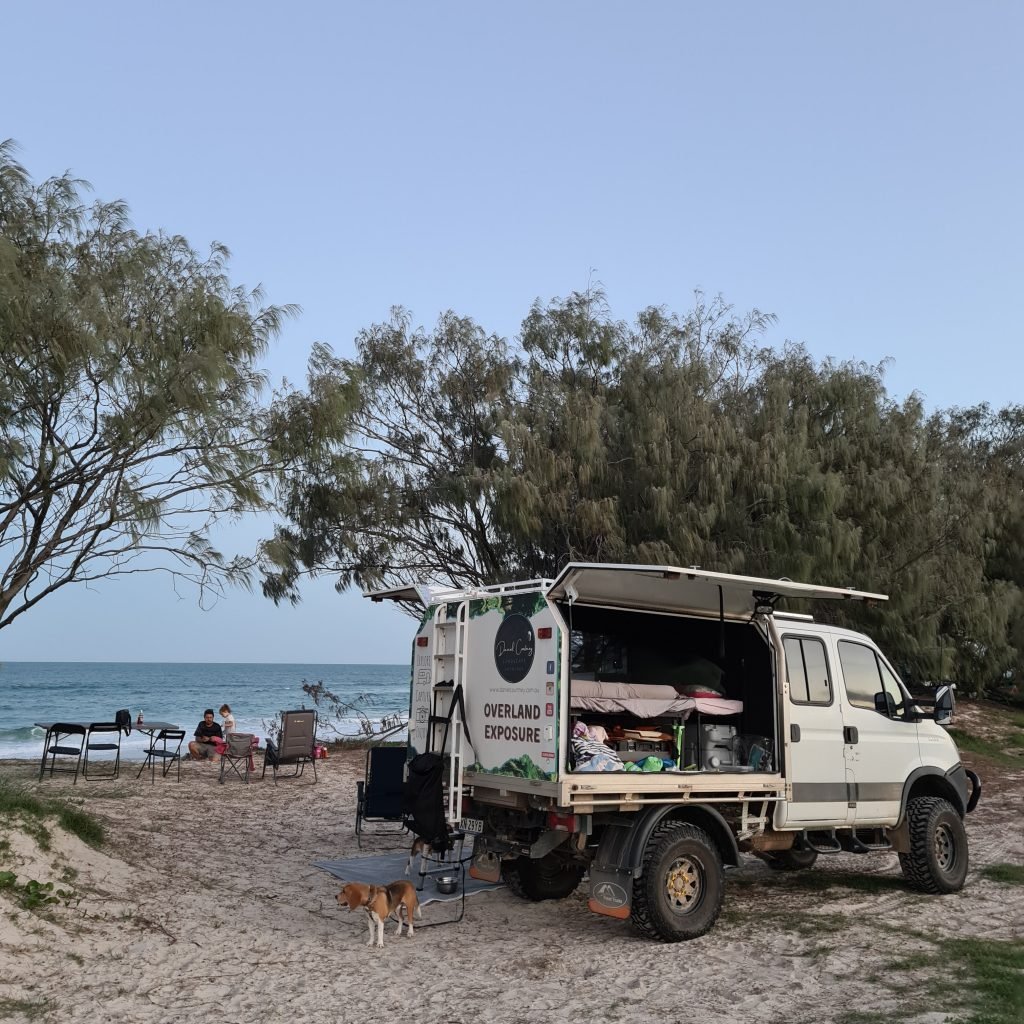 Some stats for you.
~ The truck in it's last year of travel with us has done 22,500 km.
~ It's used 5026L of Diesel with an average of 23.59L/100km towing a 3.2t caravan
~ Measurements – 232cm wide x 270cm high x 5800cm long
~ Still on the same set of Black Bear Mud Terrain tyres put on in November 2020
~ We crossed the Nullarbor on one tank of fuel (using the standard and long range tank towing our van).